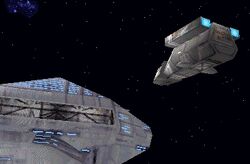 Habeen Delta-class DX-9 stormtrooper transports Ferry served aboard Nebulon-B frigate Lendova at the Mylok IV Conflict during the Galactic Civil War. Transports Ferry carried hyperdrive and experimental technology over to Grand Admiral Demetrius Zaarin's Nebulon-B2 frigate Shamus after a formal agreement aboard Shuttle Nexus.
Appearances
Edit
Ad blocker interference detected!
Wikia is a free-to-use site that makes money from advertising. We have a modified experience for viewers using ad blockers

Wikia is not accessible if you've made further modifications. Remove the custom ad blocker rule(s) and the page will load as expected.