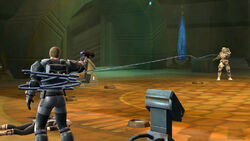 A fibercord was a string like material that could be used to link various tools including lightsabers.
Description
Edit
Fibercord was made using durable fibers such as flexsteel, and was often used in grappling hooks and other climbing devices.[1] It was also used in conjunction with a lightsaber, to connect two paired lightsabers together. It was also used to connect a lightsaber to its wielder via their armor, or a gauntlet, which would prevent their opponent from picking it up, or using the Force to telekinetically take it.[2]
Asajj Ventress used a fibercord to connect her dual lightsabers. Jango Fett and Boba Fett carried a fibercord whip in their wrist gauntlets.
Appearances
Edit
Notes and references
Edit
Ad blocker interference detected!
Wikia is a free-to-use site that makes money from advertising. We have a modified experience for viewers using ad blockers

Wikia is not accessible if you've made further modifications. Remove the custom ad blocker rule(s) and the page will load as expected.