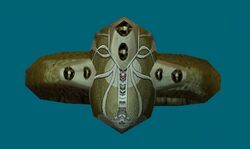 A field surgeon ring was a ring worn by medics. One of these rings was given to a medic by Administrator Nillika on Tatooine for helping treat beings that were injured in a firefight between between Lady Valarian's guards and Jabba the Hutt's thugs in Mos Eisley.
Behind the scenes
Edit
The Field Surgeon Ring is an item in Sony Online Entertainment's MMORPG Star Wars Galaxies. It is a reward for the quest Caught in the Crossfire for players of the Medic profession. The ring slightly enhances the player's constitution when worn.
Appearances
Edit
External links
Edit
Ad blocker interference detected!
Wikia is a free-to-use site that makes money from advertising. We have a modified experience for viewers using ad blockers

Wikia is not accessible if you've made further modifications. Remove the custom ad blocker rule(s) and the page will load as expected.