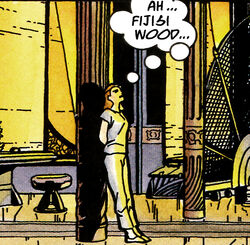 Fijisi was a tree native to the planets of Cardooine and Commenor. The wood of this tree was used to create luxurious paneling and artwork. It had a delicate scent, even when polished.
At least one suite on the President's Guests floor in the Imperial Palace on Coruscant was made of hand-carved Fijisi wood from Cardooine.
Fijisi wood was used for panels in some early RZ-1 A-wing interceptors, including the one Tycho Celchu piloted in the Battle of Endor. Celchu suspected that his craft was built on Cardooine.
Appearances
Edit
Ad blocker interference detected!
Wikia is a free-to-use site that makes money from advertising. We have a modified experience for viewers using ad blockers

Wikia is not accessible if you've made further modifications. Remove the custom ad blocker rule(s) and the page will load as expected.