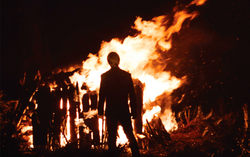 Fire was the substance with which material burned. The Jedi used fire for ceremonial purposes; Qui-Gon Jinn was cremated during his funeral on Naboo,[1] as was the armor of Darth Vader during his funeral on Endor.[2] Vader had previously been burned alive by fire on the lava rivers of Mustafar.[3] Clone flame troopers used flamethrowers against Geonosians during the Second Battle of Geonosis.[4] First Order Flametroopers used D-93 Incinerator flamethrower to burn the village of Tuanul.[5]
Appearances
Edit
Notes and references
Edit
Ad blocker interference detected!
Wikia is a free-to-use site that makes money from advertising. We have a modified experience for viewers using ad blockers

Wikia is not accessible if you've made further modifications. Remove the custom ad blocker rule(s) and the page will load as expected.