Flamethrower
Talk

1
103,567pages on
this wiki
"Fill your enemies with primal fear, then fill their lungs with fire!"
―Ancient Gand proverb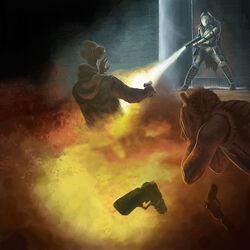 A flamethrower or flame projector was a weapon which fired a burning stream of liquid or gas. They were useful in close-quarters combat and attacks against caves and bunkers. They were also effective in boarding operations. During the Clone Wars, clone blaze troopers and flame troopers had massive flamethrowers capable of melting most materials.
Applications
Edit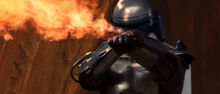 Because of their usefulness, flamethrowers were sometimes used by bounty hunters; most notably Durge, Jango Fett, and Boba Fett. Cad Bane also had a flamethrower built into his wrist gauntlets. Also, certain models of assassin droids were equipped with flamethrowers; such as ASN-121, IG-88, and L8-L9. The Overlord Pre Vizsla and Death Watch Warriors uses Flamethrowers on Ming Po town on Carlac uses again on bounty hunters on Nal Hutta and Against Darth Maul are extremly useful against lightsaber wielders as the flame cannot be blocked by a blade. The only way a lightsaber wielder can counter flamethrowers by redirecting the fire with the force (if they can use it). During the Jedi Civil War, Revan may have purchased droid flamethrowers for his two droids, HK-47 and T3-M4, for use during his quest for the Star Forge.
The Galactic Empire and the Corporate Sector occasionally used flamethrowers against rioters, due to their horrific and demoralizing effects.
Some ARC Troopers integrated miniature flamethrowers into one of the gauntlets on their armor.
Walon Vau also had one.
Appearances
Edit
External links
Edit