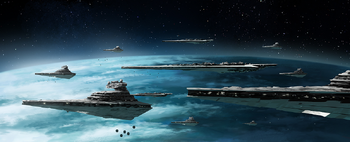 "Alert all commands. Deploy the fleet."
―Admiral Firmus Piett
A fleet referred to a group of warships operating in conjunction with each other. Usually they organized into formations for better coordination during battle and training exercises.
Fleets were used for attack, blockade, or escort purposes. A fleet commonly used three or more cruiser-class ships, as well as varying classes of starfighters.
Normally, the largest capital ships were in the middle of the fleet, followed by smaller capital ships, then cruisers and frigates, and at the edges of the fleet were positioned the smallest gunships, corvettes and freighters. Fightercraft took up positions throughout the fleet.
Appearances
Edit
Ad blocker interference detected!
Wikia is a free-to-use site that makes money from advertising. We have a modified experience for viewers using ad blockers

Wikia is not accessible if you've made further modifications. Remove the custom ad blocker rule(s) and the page will load as expected.