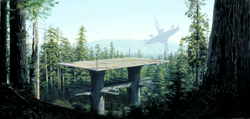 A forest was a large tract of land area covered with trees (in which case it was also called woodland or timberland), fungi, or corals.[1] A humid, overgrown forest was referred to as a jungle.[2]
The Wookiee homeworld planet of Kashyyyk was covered with dense forests of wroshyr trees.[3]
The Zoess was a large forest on the planet Radhii.[4]
The Galactic Empire razed the forests of Lothal, replacing them with mines and machines.[5]
Appearances
Edit
Non-canon Appearances
Edit
Notes and references
Edit
Ad blocker interference detected!
Wikia is a free-to-use site that makes money from advertising. We have a modified experience for viewers using ad blockers

Wikia is not accessible if you've made further modifications. Remove the custom ad blocker rule(s) and the page will load as expected.