This page is an archive of a community-wide discussion. This page is no longer live. Further comments should be made in the Senate Hall or new Consensus Track pages rather than here so that this page is preserved as a historic record.
The result of the debate was adopt the new main page. - Sikon 18:47, 17 March 2007 (UTC)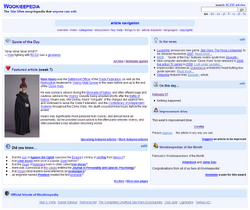 I've got nothing against the new Main Page except for the icons next to the the improvement drive and featured article. The "in the news" and "on this day" sections are a good idea, but I still think the old page is currently better. -NighthawkLeader 08:14, 18 February 2007 (UTC)
Ewww, looks bad. Jasca Ducato Sith Council Sith Campaign 14:53, 18 February 2007 (UTC)
I prefer the navigation and the look of the old page. Not too keen on that heart, lightbulb or audio-symbol either. Darth Ocean 15.05, 18 February 2007 (GMT)

You guys do know that the navigation bar will still be there? --Imp 15:11, 18 February 2007 (UTC)

I like changing the main page once in a while, but I just don't think this one is StarWarsy enough. What's with the heart on "feature article", that just sais it all. The, "what happened today" is a good idea though! --Steinninn 15:42, 18 February 2007 (UTC)
Fynbos 15:53, 18 February 2007 (UTC)

—Grand Admiral J. Nebulax (Imperial Holovision) 15:59, 18 February 2007 (UTC)

Paleontologist

I like this one better 24.176.115.107 19:48, 18 February 2007 (UTC)Darth Grivis

The proposed new main page is an eye sore. The icons make it look poorly designed. I enjoy going to the current main page, and selecting from movie, category, or era. Inigo Montoya 21:49, 18 February 2007 (UTC)
Sorry. I'm not a fan of this design at all, really. Excellent work, but it is just too bright, modern and like every other website for Wookiepedia. The icons should be Star Wars characters, etc.; they look like an operating system or something. ben8kenobi --Ben Kenobi 21:59, 18 February 2007 (UTC)
The proposal has its perks, but for some reason it just isn't pleasing to the eye the way the old one is. Perhaps I just respond badly to change, but this is how it is. DarthMRN 00:04, 19 February 2007 (UTC)
I agree with my fellow senators, uhm, Wookieepedians. The new proposed page is knid of an eyesore. It seems too much cluttered. The current Main Page is easier on the eye and it has the movies and the in-universe eras on hand for easy access. And why is the nameplate" to use a journalism term) like that? Its off to the side and it doesn't have the Wookieepedia logo. Sorry, I'd like to say NO to the proposed new Main Page. Gel Maethor 09:02, 19 February 2007 (UTC)

Sigh… Click the "article navigation" bar to see your categories. The navigation bar will still be there. --Imp 11:49, 19 February 2007 (UTC)

Cull Tremayne 12:39, 19 February 2007 (UTC) -- I know I'm in the minority here, but the current page has more of a Star Wars "feel" to it. What's a "Star Wars 'feel'" you ask? I barely know myself. I just think that the new main page doesn't got it.
I'll say it again, the new page just doesn't feel right. The old one looks better. Red XIV 20:38, 19 February 2007 (UTC)
Very difficult to me was to take the decision, they are both great !Darth Nospher 22:34, 19 February 2007 (UTC)
Although I would like to see QOTD moved up, that's the only thing I like about the other. Havac 22:37, 19 February 2007 (UTC)
Love it. Darthraul 00:37, 20 February 2007 (UTC)Darthraul
The old page just looks better to me, the news is a good addition, but the new page seems cluttered somehow. JethLordMaster 20:20 19 February 2007 (UTC-8)
Out with the new, in with the old. The new page is fine in its own terms, but I think the old one is better. TIE Defender 05:09, 20 February 2007 (UTC)
No offense, but I really don't like the new page. Timifer 21:58, 22 February 2007 (UTC)
What's so desperately wrong with the one we currently have that we feel the need to change it?

StarNeptune

Talk to me! 15:42, 24 February 2007 (UTC)
It is too harsh and very unorganized--it would be very hard for a newcomer to understand how to do things. RC 2413 22:21, 24 February 2007 (UTC)
Oyam5000 07:24, 18 February 2007 (UTC)
Sikon 08:31, 18 February 2007 (UTC)
Darth Vatrir 01:32 18 February 2007 (UTC)

General Mandofett

Wrist Holoprojector

11:46, 18 February 2007 (UTC)
Imp 11:54, 18 February 2007 (UTC)
Green Tentacle (Talk) 13:50, 18 February 2007 (UTC)
Petiflo 14:29, 18 February 2007 (UTC)
With the heart replaced, it looks better. —Grand Admiral J. Nebulax (Imperial Holovision) 16:08, 18 February 2007 (UTC)
Without the heart though. Patricknoddy 16:30, 18 February 2007 (UTC)
Gonk 18:46, 18 February 2007 (UTC)
My name is CTCMSouthern and it's awesome! 1000% yes! We need makor change anyways. It looked like an old man designed the other one! 18 February 2007 —Unsigned comment by CTCMSouthern (talk • contribs).
I'm sure we'll replace the icons at some stage. Won't we?

.

.

.

.

20:58, 18 February 2007 (UTC)

Most likely. --Imp 21:31, 18 February 2007 (UTC)

With that decided, I lend my vote. -Solus (Bird of Prey) 21:35, 18 February 2007 (UTC)

Darth Culator

(Talk)(Kills) 00:20, 19 February 2007 (UTC)
Me likey HappyTimeHarry 00:25, 19 February 2007 (UTC)
I just tested the lynx compatability: looks OK to me. 8) —Silly Dan (talk) 00:36, 19 February 2007 (UTC)
--Jakerl 01:13, 19 February 2007 (UTC)
Ozzel 05:25, 19 February 2007 (UTC)
I like it. - JMAS 05:34, 19 February 2007 (UTC)
It's ok... but where is: "In honor of Star Wars's 30th anniversary, go vote on the coolest thing in Star Wars history!"?--Prymonek 12:08, 19 February 2007 (UTC)
Bonko 17:48, 19 February 2007 (UTC)
Atarumaster88 (

Audience Chamber

) 23:24, 19 February 2007 (UTC)
Taybo20 01:00, 20 February 2007 (UTC)
DAWUSS 03:34, 20 February 2007 (UTC)
The new page looks great... but, can we make the Article Navigation a little more obvious (bigger font)? Tnx--Darth Fluffy 04:49, 20 February 2007 (UTC)
Iella Durron 14:37, 20 February 2007 (CET)
Humbone 02:03, 23 February 2007 (UTC)
Borsk Fey'lya 09:08, 1 March 2007 (UTC)
Adamwankenobi 06:45, 2 March 2007 (UTC)
The main goals of this version are:
unobtrusiveness
modern look
focus on community events
cross-browser consistency
Goal 4, at least, was realized, or at least so I think. The page was tested in Firefox 2, IE 6 and 7, and Opera 9, and has identical look and behavior in all of them. (Yes, even the rounded corners.)
Notice that ID and WOTM are in the right column now, along with two brand new sections. QOTD has been moved to the top. The episodes and EU navigation has been completely removed from the visible main page and is now available as a popup (via the "article navigation" button).
I think it is superior to the current main page. What about the others? - Sikon 15:22, 17 February 2007 (UTC)
Also, the new navigation page has two flaws: 1) It seems to pop up before redirecting to a new page. Very annoying. 2) The Letters and era pictures are in completely different places. I don't know if either of these are IE problems, but they should be fixed before I will even consider voting in favour of this thing. DarthMRN 12:16, 18 February 2007 (UTC)
You're not supposed to click on the "Article navigation" link… --Imp 12:58, 18 February 2007 (UTC)
I replaced the heart, as some people seemed to dislike it. What do you think now? --Imp 16:07, 18 February 2007 (UTC)
My comments: Looks excellent. The Article Navigation bar is BRILLIANT and well done... only a slight delay in IE7 with the tooltips. Only thing is I would say to put File:Wiki-shrinkable.png next to the main title... but that's just me (I don't know why but I really like that image :-P) I like having the QotD at the top, for easy reference. Um... I'm not too keen on the lightbulb and speaker, but I can live with them. The FA star might be the best for beside the FA, like Xwing said... that's about it. I like the search bar at the top, too. The entire page looks very clean. JorrelFraajic 18:33, 18 February 2007 (UTC)
Even with the heart removed I'm still not convinced. --Steinninn 19:04, 18 February 2007 (UTC)

So what does it need to make it "Star Wars-y"? --Imp 19:08, 18 February 2007 (UTC)

Do you mean the FA or in general? The FA icon probably just needs what Xwing suggested, with the FA star. In general... I don't know. Maybe color change? JorrelFraajic 19:49, 18 February 2007 (UTC)

I have an idea. Why don't we post the new website as a download, so the people who want it, can have it, but the people who like the old main page can keep theirs? Or we can have it the other way around. Ardraon 2:52, 18 February, 2007 (GMT-E)

Like in "Preferances" under "Skin"? That would actually be a pretty good idea. Although it would probably make someone work a little harder than they already have been. Just look at what they've done already! JorrelFraajic 19:57, 18 February 2007 (UTC)

I think that's way to much work. But if anyone is up to it, go for it. What dose it nead to be more StarWars'y? Well, I'm pretty new here, and the first thing that struck me was everything is StarWars'y. The freaking search bar has Chewbacca on it, and every single template has a funny quote. Have something like that. And, as mentuned, I'm going to miss the entire right side of the main page (Star Wars films, In-Univers categories, Real-world categories and eras). That's it, that's all I have to say. If you want to change it, go ahead, but you've got my vote agains it. That's all. Not everyone can agree. --Steinninn 20:13, 18 February 2007 (UTC)

I like it except for one thing: there needs to be some kind of hint (like "click to expand" or something) by the "article navigation" link. Because if it doesn't pop up automatically, there is no way people will know what it does. I would never have known had I not read it here. -- Ozzel 00:41, 19 February 2007 (UTC)
I don't know if thhis is a Safari-only problem or what but the quote of the day, featured article and did you know column appears to be really narrow and nothing like in the picture, but if that was fixed it would look really good. -NighthawkLeader 04:29, 19 February 2007 (UTC)

Much better, Xwing. -- Ozzel 05:25, 19 February 2007 (UTC)

Please do not change the main page layout, at least not to the proposed one. It sucks really bad. It will take away from my enjoyment of coming here. The icons, such as the heart make it look really cheap and junky. Everything about it pretty much sucks. Don't fix what isn't broken. Inigo Montoya 23:11, 19 February 2007 (UTC)

We are voting for the general layout of the page, not the icons. The icons will probably be changed. --Imp 23:13, 19 February 2007 (UTC)

I like the look. I'd like to have some links to the movies, books and (more..) like the current page has. Maybe use something like the portal layout Wikipedia has. -Fnlayson 04:20, 20 February 2007 (UTC)

Well the media links could be Index page or a Media page (linked at top). -Fnlayson 04:25, 20 February 2007 (UTC)

If the icons are gonna be changed anyway, why don't we go ahead and change them now? -- Ozzel 04:27, 20 February 2007 (UTC)

I think the icons are fine, though I do agree with the many who aren't too keen on the heart one for the featured article. How about finding an icon of a blue ribbon or something like that instead? - JMAS 05:20, 20 February 2007 (UTC)

Finlayson - this is the third time I've said it. The media links for the movies, books, comics, etc. are still there. In fact, the navigation is the EXACT same as it is on the current design. All you have to do to see it is click the "click for article navigation" part, and voila!

—Xwing328

(Talk) 15:36, 20 February 2007 (UTC)

Thanks. I meant something on next line but that covers it.. -Fnlayson 15:56, 20 February 2007 (UTC)

Observation: A really long quote (such as the new one today) makes the front page look rather icky on 1024x768 res. I can barely see the featured article. Gonk 15:40, 25 February 2007 (UTC)
I see the new version has been implemented. :( Frankly, for such a huge change, I don't think 33-21 is a strong enough consensus. Red XIV 06:46, 3 March 2007 (UTC)
The above discussion is preserved as an archive of the debate. Please do not modify it. Subsequent comments should be made in a new section.