Hey, folks. I'm a new member, so I hope I'm doing this right. I thought it would be a good idea for us to have a centralized place for project members to request images for alien articles. For example, if you know that a species has been depicted in a particular source but you don't have access to it yourself, you can ask others to do a scan for you. And to kick it off, here's a message I have also posted at Talk:Pacithhip: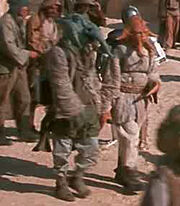 Does anyone have a copy of Star Wars Episode I: The Visual Dictionary? There is a Pacithhip podracer mechanic pictured on p. 54, and it would be nice to get a good-quality scan of him to place in the article. I'm thinking it could replace the low-res image of the Pacitthip from The Phantom Menace that's there now. Thanks! SavageBob 12:55, 31 October 2008 (UTC)
Here is an image Culator was able to scan. Apparently it is part of a lineup so it might be better to try and get some of the other guys in the images too, so that the dimensions are closer to a square. Oh, and welcome to the Project! --Eyrezer 00:40, 1 November 2008 (UTC)

Cool, thanks! Yeah, the aspect ratio on that one makes it kinda hard to use in the article, but its better than the one that was there before, I think.
Speaking of the one that was there before (see right), does anyone know how to get good-quality DVD screenshots? I took the one pictured, but it's not very good. I'm wondering if anyone could get a better snap. It's the scene in TPM where the heroes first arrive in Mos Espa. SavageBob 03:18, 1 November 2008 (UTC)
Ad blocker interference detected!
Wikia is a free-to-use site that makes money from advertising. We have a modified experience for viewers using ad blockers

Wikia is not accessible if you've made further modifications. Remove the custom ad blocker rule(s) and the page will load as expected.