Template:Infobox
Insert non-formatted text here
This page is an archive of a community-wide discussion.
This page is no longer live.
Further comments or questions on this topic should be made in a new
Knowledge Bank
page rather than here so that this page is preserved as a historic record.
Advanced Jedi Training Droid 6
(

Talk to my master

)
18:00, July 6, 2016 (UTC)
---
I, being a Star Wars vehicle enthusiast, have been struggling for months to find a way to determine whether a Victory-class Star Destroyer is a Victory I-class Star Destroyer or a Victory II-class Star Destroyer. Is there any way to tell them apart based solely on their outward appearances? —Unsigned comment by 74.109.252.62 (talk • contribs).
You can tell by looking at the top of the bridge tower, between the two deflector shield globes.
.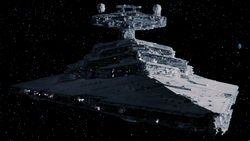 .

Brules

Click here to chat 03:07, May 21, 2016 (UTC)
Actually, there appears to be a similar difference. Looking at the pictures, it looks like the Victory-I has a structure in between the deflector shield globes, but the Victory-II doesn't. This appears to be consistent looking at all the images (except for the one from Empire at War which claims to be a Victory-I, but looks completely identical to the Victory-II; I suspect that Empire at War has the Victory-II and not the -I). Taral, Dark Lord of the Sith -Just shy, not antisocial: You can talk to me!- 14:36, May 24, 2016 (UTC)
Thank you for clearing that up. I owe you, big time. I double-checked your observation and it held up. Once again, I have failed to analyze the bridge well enough. You have no idea how long it took me to get the Imperial-classes. If you haven't caught on by now, I'm the one who posed the question originally. I have since gotten an account. User: CT-5986 "Splitter" 12:05, May 27, 2016 (EST)