This page is an archive of a community-wide discussion. This page is no longer live. Further comments or questions on this topic should be made in a new Knowledge Bank page rather than here so that this page is preserved as a historic record. Advanced Jedi Training Droid 6 (Talk to my master) 00:47, June 18, 2013 (UTC)
---
Having seen the previous
Talk:Brian Rood
page before Culator deleted it has got me wondering, Rood's work on
The Essential Reader's Companion
does indeed lend to character likenesses differing significantly from those previously established; specifically
Mirax Terrik
.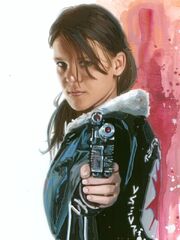 Mike A. Stackpole has said in the past that the Decipher version of Mirax is how he originally pictured her in his mind.
It does appear that (as quoted) "Rood has traced the facial features of prominent Lucasfilm employees and fans from photos publicly available online when designing the final character layouts rather than adhering to established canon depictions. Examples include Slave Leia cosplayer www.leiasmetalbikini.com/members/christy.html Christy depicted as Aryn Leneer, Lucasfilm's Leland Chee as Nuru Kungurama and Wookieepedia's own Bella'Mia as Mirta Gev."
The user who posted this questioned whether permission was granted by individuals to have their likenesses used in this manner. Is anyone able to confirm that Rood did indeed copy the likeness of fans? And if so what his motivation was for doing this?
CuriousLucGeorge(Say What?) 14:37, January 10, 2012 (UTC)
Many artists use photo references. They don't trace, as the anon states, but they will often reference from a photo to obtain a certain likeness. When designing portraits that are intended to look like "real" people, it's best if you have a model. It lends realism and solidity to your character's facial features. Rood may have used models who he felt looked similar, just to nail down various facial structures and traits that you just can't get from a drawing. An artist can tell when a photo reference was used for a character's likeness, as the face doesn't have that "generic" quality; the person looks as real as someone you would see on the street.
Using photo references is a common practice, it's encouraged, and if you want to get the skin tones and lighting just right, you had better have a photo reference. As a fellow artist, I often use photo references. And when people put their photos online, say on a userpage here, they had released that content and their likeness under the Creative Commons license. Thus, their photo can be used as a reference for artwork without the user's permission. And thus, other artists can reference to Rood's artwork. The problem arises when you claim the idea as your own and limit the use of it by others.
I can assure you that Rood is not the first, nor the last, nor the only artist in the ERC to use photo references. While it's nice to think that us artists just magically produce wonderful pieces of work from the ether, we don't because oftentimes, we can't. It helps to have a reference for shading, pose, or nailing down a likeness, be that reference a photo, a figure, or a live model. Otherwise, relying solely on text or your imagination can produce a flawed image because your brain is not infallible; it can't be trusted to know exactly how light plays across the face. I hope that helps to clear up some confusion. :)

Trak Nar

Ramble on 06:59, January 12, 2013 (UTC)

Rood's art in The Essential Readers' Companion is indeed lovely and perfectly "legit" but the use of photo references sometimes makes things awkward ; you've got to wonder why Cal Omas wears the insignia of the House of Organa on his belt buckle. :) --LelalMekha (talk) 13:56, January 13, 2013 (UTC)

Cal Omas is an Alderaanian. Maybe he was affiliated with House Organa before the planet went boom? —MJ— Comlink 23:45, January 13, 2013 (UTC)

True, but we probably will never have a canonical explanation. I guess he could have been a member of a junior branch of Organa that did not wear the surname, just like Corla Metonae was part of the House of Antilles. Yet again, there's no canon evidence for that, unfortunately. --LelalMekha (talk) 12:03, January 14, 2013 (UTC)Titre du lien
"Got you wondering." Please don't insult our intelligence by pretending you're not the same person, since we know how to use whois, and the chances are low that someone else from the same host of "woo.bigpond.net.au" would see the page before I deleted it. --

Darth Culator

(Talk) 07:14, January 12, 2013 (UTC)