This page is an archive of a community-wide discussion. This page is no longer live. Further comments or questions on this topic should be made in a new Knowledge Bank page rather than here so that this page is preserved as a historic record. jSarek 06:18, 9 December 2007 (UTC)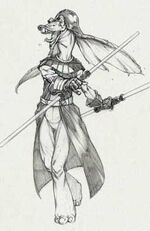 In Battlefront II in the Jedi Temple, you can see the busts of the Lost 20 in the library. One of these is Gungan, so I was wondering if one of the Lost 20 was a Gungan, or if there were ever any Gungan Jedi. I know that the games aren't as canonical as the movies, but I don't think the creators and animators would make that big of a falacy.71.225.213.147 23:54, 2 May 2007 (UTC)
Well, if one of the busts of the lost twenty is Gungan, then yes, there was at least one Gungan Jedi during the Old Reppublic. Jasca Ducato (Talk to the Dark Lord) 07:58, 5 May 2007 (UTC)

Probably so. Plus there's this piece of concept art --> -Solus (Bird of Prey) 15:11, 5 May 2007 (UTC)
I would think that there were Gungan jedi since i was suprised to learn that there also were wookie and hutts. D squad
Is that Gungan in the concept art using two saberstaffs? If he is he's either really brave or really nuts. probaly both.--Jedi Kasra 19:30, 20 July 2007 (UTC)
Actually, If you notice in Episode 1, Jar Jar Binks is the only stupid Gungan - aside from Boss Nass.
Captain Tarples and the rest of the Gungan species were quite intelligent, remember? Watch the movie again.
Gungan jedi!?!? gungans are'nt smart enough!12.216.165.50 21:37, 13 August 2007 (UTC)

Jar Jar wasn't smart enough. That doesn't apply to the whole Gungan population. jSarek 00:05, 14 August 2007 (UTC)
Remember, Jar-Jar was only described as clumsy, not stupid. Jasca Ducato Sith Council 11:11, 14 August 2007 (UTC)

Actually, I take that back, that Gungan Jedi might not be so nuts. If you look at the image closely those saberstaffs have short blades. So he probably knows what he's doing.--Jedi Kasra 21:17, 14 August 2007 (UTC)

The fact that he is Gungan is probably the reason he would be one of the Lost 20. Eisley 03:19, 31 August 2007 (UTC)

Well the species doesn't really matter. Even though he's Gungan he might be very well trained and wise. And it is only concept art. So maybe The person who drew this realized or figured out that wielding two saberstaffs would be insane. Unless he is really really skilled.JediNTT307 03:40, 1 September 2007 (UTC)

It matters, but not for their intelligence, but their 'availability'. Remember, Gungans were quite isolationist before the events of TPM, so it is unlikely that there was a Jedi recruited from among them - but of course, if he/she was sensed through the Force, maybe the gungans made exception for the Jedi - who knows?--Domlith 09:48, 12 September 2007 (UTC)

Gungans suck! 24.3.190.91 19:41, 16 September 2007 (UTC)
If you remeber Episode 1, Jar Jar says (rough tranlation, he talks like a 4 year old who learned how to talk from a parrot)"The Force? Matsey bid the force. Well that smells stinkawith" I'm pretty sure that either means to gungans the force is forbidden or it is frowned upon. Even if it is, that probably changed after the battle of naboo, and they could've joined before, to, it's not like they could stop them. StarNinja99
Ad blocker interference detected!
Wikia is a free-to-use site that makes money from advertising. We have a modified experience for viewers using ad blockers

Wikia is not accessible if you've made further modifications. Remove the custom ad blocker rule(s) and the page will load as expected.