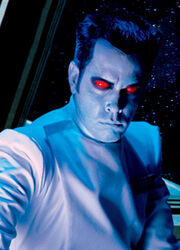 Here are the finest of the galaxy anno 2006: Mara Jade Skywalker and Thrawn. Check out the Miss Star Wars page and the Mister Star Wars page for more. I am disappointed that the Zeltrons didn't do better ;-) Thanks to everybody who voted and helped out. KEJ 23:34, 1 January 2007 (UTC)
Ad blocker interference detected!
Wikia is a free-to-use site that makes money from advertising. We have a modified experience for viewers using ad blockers

Wikia is not accessible if you've made further modifications. Remove the custom ad blocker rule(s) and the page will load as expected.