Hey everyone. As part of Wiki Modernization (which includes things like featured wiki video, the updated page header, and reducing the number of ads per page), some design tweaks have been made to the right rail modules in the main site skin.
One of the tweaks is that the Recent Wiki Activity module now includes avatars of some of the recent most active editors. Because a lot of the power users on Wookieepedia use the Monobook skin, many of you do not have avatars connected to your user profile. As a result, the module often looks like this: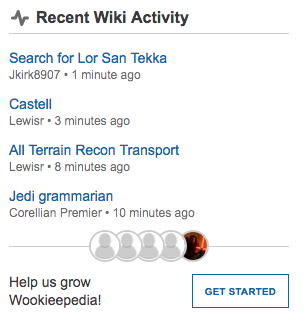 As you can see, 4 of the 5 users displayed there are showing as blank avatars. It's not the most welcoming look and not particularly visually appealing.
I would recommend that those of you using Monobook temporarily switch over to the main skin and add an avatar. Here's how:
Go to your account preferences
Under the Appearance section of the My Info tab, look for the Layout dropdown and select Wikia.
Click Save at the bottom.
Go to your userpage.
In your profile masthead, you'll see the empty avatar box. Hover over it and select "Edit avatar."
Choose one of the default avatars or (to get one that's less boring) upload your own. Then click "Save, I'm done."
While you're at it, and if you're interested, I'd encourage you to fill out your profile masthead. Hover over it and you'll see an Edit button appear on the right-hand side.
Go back to your preferences, switch Wikia to Monobook, click Save and you're done!
You still won't see your avatar on the Monobook skin, but it will allow for a more visually-appealing reader and user experience for most people who use the site.
Let me know if you have any questions! - Brandon Rhea(talk) 16:38, May 3, 2017 (UTC)
Thanks for the help Brandon! Uploaded an avatar and will eventually get round to filling out my profile. --Lewisr (talk) 17:10, May 3, 2017 (UTC)
In case this wiki is interested, I created long time ago a script to display the avatar on user/talk/contrib pages in monobook, with some useful links, date of first edit and number of contributions. If you're on your own user page, clicking the avatar will provide an assistant to upload a new avatar directly from there without the need to switch skins. The code is in w:c:es.pokemon:MediaWiki:Common.js/Clases/UserWikiInfo.js (configuration and localized string are at the top) and CSS in w:c:es.pokemon:MediaWiki:Monobook.css (search for UserWikiInfo). Feel free to contact me if you need any help --Ciencia Al Poder en WikiDex 20:44, May 29, 2017 (UTC)
Ad blocker interference detected!
Wikia is a free-to-use site that makes money from advertising. We have a modified experience for viewers using ad blockers

Wikia is not accessible if you've made further modifications. Remove the custom ad blocker rule(s) and the page will load as expected.