This page is an archive of a community-wide discussion.
This page is no longer live.
Further comments or questions on this topic should be made in a new
Senate Hall
page rather than here so that this page is preserved as a historic record.
Advanced Jedi Training Droid 6
(

Talk to my master

)
12:00, April 10, 2015 (UTC)
---
In legends articles we write eras in infoboxes such as Rise of the Empire era, Rebellion era.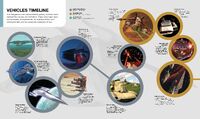 I found out that Ultimate Star Wars is using "Crisis in the Republic", "The Clone Wars", and "The Empire Era" in the timeline. (look at the image) I think it's better to use the |era= thing in canon too. Jaewade (talk) 01:27, March 3, 2015 (UTC)
Interesting. That's a great find, and does seem to point towards canon eras of some sort. My inclination, however, would be to wait until Ultimate Stars Wars comes out, and we hear official statements and what not on it. The reason I say that is because those eras could just be specific to this book. We wouldn't want to assume that they are publishing eras for all of Star Wars canon, and then be wrong about that. So I'd just say hold tight for awhile, and maybe when we're closer to the release, we can ask for official clarification. Good find! - Brandon Rhea

(talk)

01:39, March 3, 2015 (UTC)
Except that that's a single source that hasn't even come out yet. The Legends eras were publishing eras that were in use for decades; unless an officially stated and widely-used system is established, there shouldn't be any eras in Canon articles.

Cade

Calrayn

01:40, March 3, 2015 (UTC)
I also noticed that for the "Key Event" page on Yoda's "Training on Dagobah", there is no mention of an era. I'll point out as well in case anyone missed it, R2-D2 is confirmed to be in episode VII, according to the preview with him on it ;) Manoof (talk) 06:45, March 5, 2015 (UTC)
Just noting it here: the Databank on SW.com sort of uses Eras in the "history" section of its entries: have a look at Vader's or Leia's. Those labels are "Fall of The Republic," "The Dark Times," and "Galactic Civil War." --LelalMekha (talk) 10:53, March 11, 2015 (UTC)