This page is an archive of a community-wide discussion. This page is no longer live. Further comments or questions on this topic should be made in a new Senate Hall page rather than here so that this page is preserved as a historic record. —MJ— Training Room 19:20, November 13, 2012 (UTC)
---
As you know, Wookieepedia will be represented at Celebration VI in Orlando, Florida, August 23-26. But, we are doing so on very limited resources this year. We need YOU to help us make this Celebration a good one!
What Our Costs Are
Edit
Right now, in order to have access to the Internet so that visitors to booth 351 can use the site, we are looking at paying US$300 to Smart City for all four days. Without access to the site during the convention, the booth would be meaningless, as we are an online entity. This cost is rather high, and time is now of the essence. We need your help!
What We Need
Edit
If you are willing and able to donate toward the Internet costs, we would greatly appreciate it. Any little bit will help. Right now, our PayPal is set up through our booth coordinator, Master Jonathan, through jcgoble3@gmail.com. Any and all money will go directly toward the Internet costs and only the Internet costs. Further questions on this can be asked in the discussion section of this page.
Note: On PayPal's "Send Money" form, please click on the "Personal" tab and select "Other". Otherwise PayPal may deduct fees from your donation. —MJ— Council Chambers Thursday, August 16, 2012, 23:05 UTC
Why Haven't We Done this Sooner?
Edit
Long story short, we were under the impression that we would be getting outside help for this. Evidently, that is not the case, so we need to cover the costs on our own. There are only four volunteers who will be attending this year, and of those volunteers as of this writing, three are confirmed to be there. Two are working from shoestring budgets and cannot afford the costs alone. As time is of the essence, this has become a call to arms for those who are willing and able to contribute to our booth costs. If you are unable to attend Celebration VI, but you wish to be able to help out, this is your chance. Any donations at all, large or small, will help. Trak Nar Ramble on 05:35, August 16, 2012 (UTC)
Donation list
Edit
(to be updated by Master Jonathan only)
General discussion
Edit
Go ahead, complain about how last minute this is, but remember to be civil. Trak Nar Ramble on 05:35, August 16, 2012 (UTC)
Trak, Jonathan; I may be willing to help with some of the cost, but I need total accountability. Just the way I work when handling money, nothing personal :) If I were to contribute, I would need to see:

An exact statement of money received from all individuals into the account (with information redacted as necessary, of course), so that the overall total received is known. Also, I would suggest that contributors include a reference number (if possible) defined by you so that the transaction can be identified as having been paid in for the purpose of CVI costs. As Jonathan presumably uses his account for personal business, it will help separate any personal transactions from CVI ones.
A copy of the receipt from the hosting venue showing the paid costs for verification.
A guarantee that if I (or anyone else) contribute, and the target is not reached and no payment for Internet access is made, then my money will be returned within, say, 7 days.
An agreement that, if more than the $300 is collected, fairly redistributes the overspill back to those who contributed, or directs it to a worthwhile cause if all are in agreement.

Is this something that can be accommodated? It's not an issue of trust, but accountability. We have never done anything like this before, and the entire process must be aboveboard. - Cavalier One(Squadron channel) 08:54, August 16, 2012 (UTC)
Not a problem. In order:

I will create a list above of who has donated what. I will use screen names where I know them, first name and last initial where I don't unless requested otherwise. My account is used for personal business, but rarely so (only one to two transactions per year), and is highly unlikely to be used for such between now and the convention, so keeping them separate would not be a problem. As for a reference number to identify transactions, PayPal attaches a Unique Transaction ID to each transaction, so I will keep a private record of those.
The receipt would be my credit card statement, as Wi-Fi is purchased by credit card directly through the device being connected at the time of connection, not ordered in advance like other services they offer. I will provide a redacted screenshot of the charges in my online banking account as soon as I can after they post (but see the last two sentences at #4 below).
If the target is not reached, I will cover the rest on my own credit card even though I can't really afford to do so as internet service is not an option for us, so there will be no refunds for target not reached.
Donations made after reaching $300 will be refunded within 30 days, and I will endeavor to get an admin to blank the sitenotice as soon as I become aware that we have reached $300 so as to avoid excess donations. I say 30 days only because I'm not sure what kind of internet service, if any, I'll have the rest of my vacation, as I'm staying in the Orlando area for two weeks following CVI. If I have a decent connection, refunds and the credit card statement will be done much, much sooner.
I may also attach a note to the laptop during the convention listing and thanking those who have sponsored the internet connection. I haven't decided on that yet.
Also, there was an error above by Trak in my email address, which was missing the "3". It is now corrected; the sitenotice is correct. —MJ— Training Room Thursday, August 16, 2012, 13:26 UTC
(Trayus's comment copied from Forum:SH:Wookieepedia_at_Celebration_VI#Internet_access_costs)
Glad to see this level of transparency. Question: was the information regarding the cost of internet access collected via a phonecall or gathered online from a website or email? If it's the latter, can we get a screenshot of the communication? Regular users obviously have no issue trusting your word, but casual users (and even some habitual editors) may want to "hear it from the horse's mouth" so to speak. Also, on the forum here, can we list under "What Our Costs Are" who exactly the money is being ultimately payed to? Is it the convention center itself or an event company that will be the recipient? Darth Trayus(Trayus Academy) 23:20, August 16, 2012 (UTC)

It was from a phone call. This is the order form for other internet services; as you can see, wireless requires calling for a quote (which I obviously did). Smart City, the official provider of wireless services for the convention center, is who the payment will be going to. —MJ— Holocomm Thursday, August 16, 2012, 23:38 UTC
This coming weekend, I'll be in town and transferring money to pay a bill. I'll see what I can contribute then, even if it's towards the antenna cost. Trak Nar Ramble on 02:41, August 17, 2012 (UTC)
As of this morning, we have reached the $300 target. Thank you to those who have contributed. —MJ— Training Room Sunday, August 19, 2012, 11:31 UTC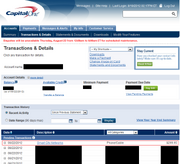 Here is the screenshot from my credit card online account proving that the charge has been made. The money has been withdrawn from PayPal into my personal checking account to enable me to pay off the charge, which I will do when the transfer completes in a few days. —MJ— Jedi Council Chambers Wednesday, August 22, 2012, 16:54 UTC
I anticipate receiving 1/7 of 5 cents due to the charge only being 299.95. Per what you said previously, refunds would be made available if the donations exceeded what was needed for the cost of the Internet service. It was 5 cents less than you said, so all 7 of us should receive 1/7 of 5 cents. I intend to hold you to that agreement. No I don't. I'm just kidding. How far did you read through this before you realized I was kidding? =P - Brandon Rhea(talk) 17:09, August 22, 2012 (UTC)

LOL! I have a pretty good BS detector, so I realized you were kidding as soon as you said "1/7 of 5 cents". But you know what? I am going to do that anyway. Everybody will receive a refund of 1/7 of 5 cents, less any fraction of a penny. ;) —MJ— Training Room Wednesday, August 22, 2012, 22:38 UTC

Yeah... shipping would offset the cost of transporting 0.71 of a penny. :P --

Riffsyphon

1024

09:41, August 26, 2012 (UTC)
Ad blocker interference detected!
Wikia is a free-to-use site that makes money from advertising. We have a modified experience for viewers using ad blockers

Wikia is not accessible if you've made further modifications. Remove the custom ad blocker rule(s) and the page will load as expected.