This page is an archive of a community-wide discussion.
This page is no longer live.
Further comments or questions on this topic should be made in a new
Senate Hall
page rather than here so that this page is preserved as a historic record.
Advanced Jedi Training Droid 6
(

Talk to my master

)
18:00, August 30, 2015 (UTC)
---

Good morning Wookieepedia!
As part of our ongoing work to try and help ensure articles display well across kinds of devices, we've been hard at work on a new article feature to update the way 'content notices' behave, which we're calling Flags.
What we're talking about are the kinds of notice templates you see at the top of articles with information like 'this page contains major spoilers' or 'merging and redirecting this article may be desirable'. Essentially, they are metadata for an article - communicating the status of that article, rather than being article content itself.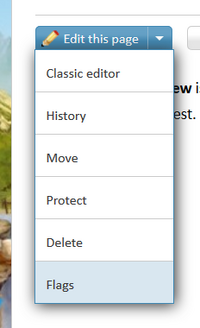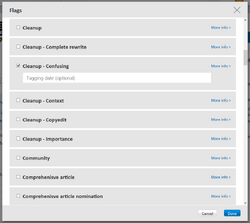 What does it do?
With Flags, the notice templates are separated out from the article content and given their own management tool. They still use the exact same templates as before (and you can continue to create new ones and update existing templates, just as you do today) - but now users can browse, add and remove them without resorting to fairly specific knowledge of how the varied templates work.
By adding a quick layer of data to these templates, communities will have more control over which notices appear to which people (e.g. a Majorspoiler notice would be relevant to all readers, but a Mergeto notice may only be relevant to logged-in contributors.) The layer of data would also allow for custom reports via Insights (e.g. an Insight list of all pages that have a stub flag.) The content of these templates will no longer clutter Google and on-Wikia search results, and we'll be able to display abbreviated versions of the notices on mobile phones.
Other potential ideas include mobile users easily being able to mark pages that need work (e.g. you notice a page is full of typos, and flag it for yourself or others to improve later), or even modifying how the page behaves based on the flags (e.g. hiding spoiler article text from on-Wikia search results). If you have more ideas around this, we'd love to hear them.
How can you help?
We have been working on a simple version of the Flags tool, which is already live on a few communities, such as The Maze Runner Wiki, 007 Wiki and Red Dead Wiki. We're really interested to see how it works on active, smart communities like yours, to help us understand how it works in real-world environments.
We've set up a test community at http://starwars-test.wikia.com so that it can be tested out today. However, in order to ensure it doesn't interfere with Google search results, we have had to restrict access to recently active admins, who are free to add more users as admins so they can go take a look. It's entirely separate to the main community - play with it to your heart's content!
Any and all feedback on how it works will be invaluable, and will likely strongly influence future development in this area.
What would enabling it mean for your community?
If you adopt Flags, we'll automatically convert usages of notice templates to the new type of code. (If it needs to be reversed, this is possible.) Afterwards, you'd use a new option on the 'Edit' button dropdown to choose which flags should appear on an article.
You can view the current flags setup for your community on Special:Flags. This can't be edited yet (we're working on that functionality), but we're happy to make tweaks to it in the meantime.
And yes, it completely works in Monobook!
You can read more detail about how exactly the tool works on Help:Flags. The tool is under heavy development right now, and more abilities and options will be added as and when they are completed.
So - we'd love to hear your thoughts. We'll keep an eye on this thread for any feedback you may have.
Thanks! Kirkburn
(talk) 20:22, June 22, 2015 (UTC)
Discussion
Edit
Note: tomorrow, a variety fixes and tweaks will be going live - including better logic around updates, improved logging, simple mobile support, and Special:Flags displaying the parameter settings (along with the data already listed). Kirkburn
(talk) 20:22, June 22, 2015 (UTC)
Two things: the buttons/titles in Monobook are broken (reading <flags-edit-modal-title>, <flags-edit-modal-cancel-button-text>, <flags-edit-modal-done-text> instead of the values exsting in the MediaWiki: pages) and a way to group or organize the templates is needed. Also, some flags/templates are administrative and shouldn't be available to the general populace (like the guidelines ones).

Cade

Calrayn

20:30, June 22, 2015 (UTC)

Thanks for the quick feedback! I'll let the team know about the Monobook messages issue - it should be an easy fix. What kind of organizing would you like? One idea we have is that you can set a global order via Special:Flags, which applies to all articles - how does that sound? Finally, what kind of flags do you consider being purely for admins to control? Kirkburn (talk) 20:35, June 22, 2015 (UTC)
I'm slightly surprised not to see any Wooktivity (that's a professional word, right?) on http://starwars-test.wikia.com/wiki/Special:Log/flags so far. In case it wasn't so clear in the message above - admins, please do feel free to play around on that test community! (Heck, feel free to do stuff not even related to Flags.) Kirkburn
(talk) 17:47, June 23, 2015 (UTC)
This is an interesting idea. I like the idea of taking what is essentially already metadata and turning it into actual metadata. However, one thing I like about the existing template system is that it adds just a small degree of difficulty to the process of changing the advisory headers on an article, meaning that only somewhat experienced or serious users will take the time to do so. If this is open to everyone, people will have the ability to add flags without a second thought or even a first thought in some cases. I don't feel that streamlining this will be a good thing unless we can put a number of restrictions on it. At the very least, changing flags should be restricted by default to autoconfirmed users with the administration having the option to raise or lower the global setting for required rights. Also, there's no mention in the help page as to whether this feature honors page protection. And there should be a function in Abuse Filter to recognize adding/changing/removing flags and act accordingly just as there is for edits and moves and other actions. -- Darth Culator (Talk) 18:58, June 23, 2015 (UTC)
Thanks for the feedback! You reminded me to add a quick line to our help page, to help clarify permissions: right now, the ability to edit flags follows the same permissions as editing the article itself. This isn't set in stone, though - what kind of primary concerns would you have about anons editing these? Vandalism, or that they might get it wrong, or something else? Kirkburn (talk) 20:07, June 23, 2015 (UTC)
Merry Thursday, Wookieepedians! Not as many big tweaks to Flags in today's site update, but one significant one is that the 'Edit flags' link that appears on hover no longer adds additional space to the article page. Anyone tested it out on the test community, and got any interesting feedback about it? Kirkburn
(talk) 15:52, June 25, 2015 (UTC)
Happy Mondays, Star Wars fans. Couple more fixes coming tomorrow - one in particular that may be obvious on the Star Wars test community is that the Monobook flag choice dialog should be themed better, and a fix for flag logs sometimes showing oddly on Special:RecentChanges. Anyone got any new feedback about the feature? Kirkburn (talk) 19:15, June 29, 2015 (UTC)

Right now, I'd say the biggest improvement/issue with the flags is the organization of the menu; other than that, the menu's not particularly aesthetically pleasing but that's something easily tweakable locally and/or globally. Maybe also a way to restrict certain groups of templates/flags to specific namespaces; our forum-archiving and nomination-archiving templates shouldn't ever be used outside of Forum: and Wookieepedia: respectively.

Cade

Calrayn

21:00, June 30, 2015 (UTC)
Just as a quick update on the current status of flags: we've been working on a variety of bug fixes and general quality improvements. The team are currently working on making it possible to edit Special:Flags directly, which should make it easier to get to grips with. We'll let you know when that's ready to test! Kirkburn
(talk) 17:34, July 31, 2015 (UTC)
Ad blocker interference detected!
Wikia is a free-to-use site that makes money from advertising. We have a modified experience for viewers using ad blockers

Wikia is not accessible if you've made further modifications. Remove the custom ad blocker rule(s) and the page will load as expected.