This page is an archive of a community-wide discussion. This page is no longer live. Further comments or questions on this topic should be made in a new Senate Hall page rather than here so that this page is preserved as a historic record. Toprawa and Ralltiir 08:02, February 25, 2012 (UTC)
---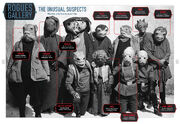 OK, so I just read "Rogues Gallery: The Usual Suspects: Who's Who in Mos Eisley," an article in Star Wars Insider 130 that was written by Leland Chee. In it, he identifies the characters pictured in the photo to the right. (The article uses a version of that photo without the make-up artists who whoever those are, but I don't have the ability to scan it, unfortunately. Someone?).
At any rate, the names kind of fly in the face of previous identifications made by other sources. Perhaps this is Chee's attempt to sort through the confusion of names about various Mos Eisley denizens? At any rate, here are the problems for us as I see them:
The rest of the names seem to confirm what we've already got. But the articles above will need updates. However, it'd probably be a good idea for someone to double check that my guesses as to which articles will be affected are correct. Happy hunting. ~Savage

19:35, December 14, 2011 (UTC)
Atheloe now needs to be created, and not just redirect to Lutrillian. And right, now various quality articles need updating. I hope these retcons won't kill any FA's. Hanzo Hasashi 16:30, December 16, 2011 (UTC)

Do you think my reasoning is right that Solomahal is now a Holiday Special-only character? It seems like the two Lutrillians in the cantina are now Atheloe and Ownellco. And do you think I'm right that Mosep Binneed needs updating to indicate that the white-haired one is him? Currently, that article uses images of Taws Khaa throughout. ~Savage 16:33, December 16, 2011 (UTC)

Yes with Mosep. As for Solomahal, I am not sure. Haven't watched ANH for too long, and don't have too good a memory for the Lutrillians. It is worth noting, though, that on Yodapedia, Sompeetalay still treats Solomahal as a New Hope character. Hanzo Hasashi 16:47, December 16, 2011 (UTC)

I checked the cantina scenes very carefully when I wrote up Lutrillian and Unidentified Lutrillian (Chalmun's Spaceport Cantina), and I can assure you there are only two Lutrillians featured in the film, and they are the ones in the photo above. The image on the Decipher Solomahal card (which named that character) comes from the Holiday Special. However, because lots of authors have assumed Solomahal was in the cantina, there are sources that place Solomahal there, I think. (I need to check to be sure.) What we may end up having to do is assume that there are, in fact, three Lutrillians in the cantina, but Solomahal is somehow "off camera" for the whole sequence in A New Hope. Then his BTS would be the only part that really needed updating. ~Savage 16:56, December 16, 2011 (UTC)

Hi guys! Since I used Solomahal in one of my What's the Story-entries, I will tell you how I feel about it. Atheloe is the 'fat' Lutrillian, previously known as 'The Colonel'. He can be seen walking in the streets of Mos Eisley as well when Luke has sold his X-34. So that's the easy one. Ownellco is another business. I agree with 'Savage Bob' about this. Technically Ownellco looks a lot like the Lutrillian in the Cantina (seen only clearly in the black and white screenshots). I did establish that Solomahal was indeed in the Cantina so he could meet Tzizvvt. The creation of Ownellco might change this, however, there is no source that indicates that Ownellco was also in the Cantina. The only thing we know about him that he was on Tatooine in 0 BBY. If I'm not mistaken, I believe that Solomahal is pictured at the Cantina as Haremouse in Star Wars Chronicles with the photo from The Holiday Special. --Sompeetalay 12:52, December 17, 2011 (UTC) + Update: I've altered Solomahal's appearance only to THS and I've added a picture from ANH to Ownellco's article on Yodapedia. I think that's indeed the best thing we can technically do. When Ackmena talks to Solomahal in 1 ABY, she thinks he's Helpmus, but she corrects herself and says "I don't believe we've met before". This might indicate that Solomahal was indeed present in the Cantina, but during Wuher's services. So I'd say that we don't exactly know when Tzizvvt and Solomahal met. It could have been during ANH, but also a bit later or even shortly before ANH. --Sompeetalay 13:28, December 17, 2011 (UTC)

Thanks for weighing in! I can say for certain that there are two Lutrillians in the cantina scene, one by the door, and one talking to Leesub Sirln. Both are fat, with the only real difference between them being that one wears an ascot/scarf thing (but a scarf nowhere near as Dr. Who-ish as the one worn by Solomahal in The Holiday Special). I think it's safe to say Ownellco is the Lutrillian by the door when Luke comes in the cantina. ~Savage 15:44, December 17, 2011 (UTC)

Yep, I agree with you. I'm not at home right now, but if I remember well, the sketch of John Mollo about the Cantina aliens also showed two Lutrillians. --Sompeetalay 09:19, December 18, 2011 (UTC)

Oh dear, this is a pickle, especially since it contradicts Pablo Hidalgo's sadly-now-defunct Cantina Roll-Call: Shedding Light on Some Alien Aliases in a couple places, specifically in identifying Lutrillians and Nimbanese. The Roll-Call indicates Solomahal was in ANH, and it included, if I recall correctly, a sketch of the Lutrillian without the ascot (though I might've seen that somewhere else), which was the one Sompeetalay based Tzizvvt and Solomahal's history on. I'd imagine Hidalgo and Chee have about the same level of canon-cred, so it looks like we have a case of "Schrodinger's canon" on our hands. Want me to slap a "twoconflicting" on these articles? Rod 23:16, December 20, 2011 (UTC)

I'm not sure. I think in this case, Chee's identifications being later are intended to supercede Hidalgo's. I mean, it's pretty clear that Decipher used a Holiday Special image for Solomahal, and that later authors (Hidalgo included) have incorrectly assumed the character (as he appears on his Decipher card) was in A New Hope, when he wasn't. I need to carefully go through the sources at Lutrillian and tease out which random images are Atheloe, which are Ownellco, and which are Solomahal from the Holiday Special when I get back from Christmas vacation. But, at the end of the day, I'm not sure when to consider something "two conflicting sources" and when to consider something a retcon. ~Savage 23:25, December 20, 2011 (UTC)

As good at continuity as he is, Chee has erred before; recall that he thought Wooof and Klaatu were the same guy (this wiki just flat-out ignored that one), and there was something about Dugs in AOTC we've had conflict over whether he was right on, too. If Chee didn't consult Hidalgo for this article, this may well be a case of miscommunication/not having the necessary information on Chee's part. Somebody should ask him in his thread if that's still there after the site revamp. Rod 23:47, December 20, 2011 (UTC)

Yeah, good point. I think whether there's a conflict or now comes down to whether a previous source has identified a particular actor/mask as one character, but Chee has now identified them as someone else. I really only think this is an issue with the Nimbanese. With the Lutrillians, the same Holiday Special image of Solomahal has been used over and over, and I can't think of any instances where one of the two Lutrillians listed here has been named Solomahal. We've always just assumed one of them was Solomahal, and any material that states Solomahal was in the cantina during the duel with Ponda Baba is not contradicted; it's a dark cantina, so Solomahal could have just been off camera. With the Nimbanese, though, we have a clear example of Decipher naming one guy Mosep and Chee naming that same guy Taws. In the Nimanese case, then, we very well may need to use the conflicting templates. I plan to pore over my SW library when I get back from my holiday vacation to find out exactly which masks have been identified as which characters to help sort this mess. But, yes, it may be a case where we need the conflicting template to be employed. I'm just not sure on which articles yet. ~Savage 15:50, December 21, 2011 (UTC)

With the Nimbanese, that was a case of Decipher using the same suit for two different characters, as with Klaatu and Yotts Orren or Umpass-stay and Gamall Wironicc; they used a screenshot of the Nimbanel outside Docking Bay 94 for Tawss and a promotional photo of the exact same suit for Mosep. Okay, that's fine... except the Roll-Call explicitly calls the Docking Bay 94 Nimbanel Mosep. I also found a picture of the Roll-Call's entry for Solomahal, showing the ANH Lutrillian without the ascot. Rod 04:17, December 25, 2011 (UTC)

Agreed on the Nimbanese, but for Solomahal, that image shows the Holiday Special guy and only a bit of concept art from ANH. I don't think that exactly counts as a misidentification, since technically all Lutrillians are based on the same concept art. ~Savage 05:56, December 25, 2011 (UTC)

The pockets are the same as Atheloe's, though. Does Ownellco have pockets? I can't tell. Rod 00:50, December 26, 2011 (UTC)

What I meant was that that concept Lutrillian was used for both of the characters, so this concept art probably shouldn't be taken to "be" any particular Lutrillian over the other I think. The full version of the image can be seen here. The "Colonel" on the image is marked with "x2" and was produced twice to create the two characters. ~Savage 06:30, December 26, 2011 (UTC)

Interesting. That still means, in Hidalgo's opinion, that Solomahal was one of the ANH Lutrillians; we just don't know which. Rod 13:51, December 27, 2011 (UTC)

Yeah, I think so. I think we all assumed that until Chee blew that idea out of the water! :) A case in point is the current Hasbro Wish List Poll, where Solomahal was a choice to be made into an action figure. The poll is closed, but I'm pretty sure Solomahal was on there, described as being from A New Hope. I'll have to check Insider 129 again when I get home to be sure. ~Savage 15:37, December 27, 2011 (UTC)

Until we find out if Chee consulted Hidalgo, then, I think the Solomahal, Atheloe, Ownellco, Tawss Khaa, and Mosep Binneed entries should have a conflict template. EDIT: Possible breakthrough. A whole lot of sources identify Joe Kaye as playing Solomahal in ANH, and the film cast website "Aveleyman" identifies Kaye with the seated Lutrillian (which is the one without the ascot). How they'd know this, I'm not sure, but it's a step in the right direction for cleaning up this mess. Rod 00:04, December 28, 2011 (UTC)

I agree. But there's some news! I asked Mr. Chee on his Facebook page whether Solomahal was still considered to be in A New Hope, and he replied (which is rare these days). He said that Solomahal is now considered to be the Lutrillian in The Holiday Special. So I guess we do have a retcon on our hands. I have one more source to check (Behind the Magic) and then I'll make all the updates to the Lutrillian articles affected... Oh, and can someone tell me how to cite a Facebook post? ~Savage 03:20, January 4, 2012 (UTC)

Click on the date and time of the post, and it will bring you to a page that exclusively includes that post. Use that URL. Cite_web works well, since you can cite the author and date posted. See ref [20] here for an example. Menkooroo 03:23, January 4, 2012 (UTC)

It's probably about time to cook up a Facebook template, to go with things like our Twitter template. jSarek 07:04, January 4, 2012 (UTC)

In the meantime, I can't get the "click the date and time" thing to work. It's grayed out on Mr. Chee's page. Can someone explain it another way? Or else fix ref 50 for me on the Lutrillian page? (I wrote a bunch of gobbledygook where the URL should go). ~Savage 01:05, January 5, 2012 (UTC)
Ad blocker interference detected!
Wikia is a free-to-use site that makes money from advertising. We have a modified experience for viewers using ad blockers

Wikia is not accessible if you've made further modifications. Remove the custom ad blocker rule(s) and the page will load as expected.