This page is an archive of a community-wide discussion.
This page is no longer live.
Further comments or questions on this topic should be made in a new
Senate Hall
page rather than here so that this page is preserved as a historic record.
Advanced Jedi Training Droid 6
(

Talk to my master

)
01:05, November 9, 2014 (UTC)
---
This is something I first suggested a long time ago. The idea was apparently approved at one point, then forgotten. Then I sort of let it go as well, and nothing was apparently done since then. The fact is that the tops of certain of our articles are just too cluttered. If a visitor to the site clicks for the page for Barriss Offee for example, the first thing they have to see is Solo complaining about the article being messy. Then they've got Anakin saying the article is taking a point of view. Next, Luke wants to let them know that there may be issues with the article's accuracy. Finally, they're given an informational message that what they're seeing doesn't fit into an exactly chronology in relation to the Clone Wars. It's not good that right now, as I look at it on a 1920 x 1080 monitor, the actual article content I see, starting from the top of the page going down is exactly zip-all. We desperately need a multiple issues template, but since the last discussion of the matter is over two years old, I wanted to float the idea again before actually going ahead with anything. I will see about doing it myself if need be, though it's been a while since I've done any major work with templates... ProfessorTofty (talk) 19:05, October 3, 2014 (UTC)
I am viewing the page from a laptop with a 14.1" screen running at 1600x900 resolution, and I am able to see the whole introduction, infobox pictures, and the start of TOC. Not sure why it looks so cluttered to you. <-Omicron(Leave a message at the BEEP!) 19:11, October 3, 2014 (UTC)

There's been discussion recently about potentially adding tags to a lot of these templates so that they only show up for logged-in editors and on desktop. That way, it doesn't crowd mobile (as they look even worse on mobile) and aren't shown to readers (who don't really care about editing templates). - Brandon Rhea

(talk)

19:29, October 3, 2014 (UTC)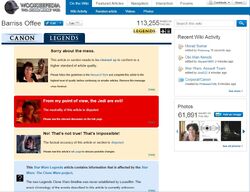 Omicron, I'm not sure you caught my meaning. Are you saying that you're able to see all of that before scrolling down past all of those messages? Because I'm now looking at it on one at 1280 x 1024 and I'm still not seeing anything other than the messages. As for your idea, Brandon, sure, that's another way of doing it. I'd be in favor that as well, if that solution were implemented, although I'd suggest adding a "hide" button or option for logged in who don't want to see it either, or at least wish to dismiss it. ProfessorTofty (talk) 19:39, October 3, 2014 (UTC)

Well, part of the problem is that you're using the Wikia skin, which has a much more narrow column of text than the Monobook skin to make room for ad space, so the space those templates take up is just being exacerbated. For your personal benefit as a regular editor, Wookieepedia strongly recommends switching to the Monobook skin. As far as non-editing readers to the site, who will always be using the Wikia skin (if not Mobile), I've said recently that I wouldn't mind even going so far as to hide those templates by default in Wikia skin. Toprawa and Ralltiir (talk) 19:49, October 3, 2014 (UTC)

It definitely looks better in Monobook than Oasis (see this comparison on 1920x1080), but considering 99.9% of our readership is either logged-out (Oasis) or mobile, we definitely need to consider how to treat these rather big maintenance templates. We were discussing hiding them completely from logged-out users, which in my opinion would at least make sense for the "temporary" templates (e.g. cleanup), whereas the "permanent" templates (like ambig) could be decreased in size. Combined templates is also something we've considered before, but I think hiding them from the reader is the better option personally.

1358

(Talk) 19:52, October 3, 2014 (UTC)

Two updates: Firstly, I'm about go through the maintenance header templates and make them hidden in the mobile skin, so that'll be better. Secondly, I see the issues you mean, Tofty—unneeded margins are being added between HTML p tags, which is swelling the size of the templates. I'll work on the Oasis skin once I'm done.

Cade

Calrayn

20:07, October 3, 2014 (UTC)

Definitely right that it looks way better in Monobook. However, sorry, but I'm sticking with Wikia's skin. Other than this particular issue, I think I definitely prefer it. As for how it looks in the Oasis skin, alright, thanks 'Cade. Hopefully once that's all tweaked things'll look a lot better even if you're not using Monobook. ProfessorTofty (talk) 20:10, October 3, 2014 (UTC)

I've removed the paragraph margins in message boxes on Wikia skin. Should look slightly better now. Green Tentacle (Talk) 10:38, October 5, 2014 (UTC)

A little better on Oasis, maybe a bit less scrolling, though still no article content showing without having to scroll. ProfessorTofty (talk) 21:21, October 5, 2014 (UTC)
So do we have an update on where we're at with this? ProfessorTofty (talk) 22:17, October 9, 2014 (UTC)
Ad blocker interference detected!
Wikia is a free-to-use site that makes money from advertising. We have a modified experience for viewers using ad blockers

Wikia is not accessible if you've made further modifications. Remove the custom ad blocker rule(s) and the page will load as expected.