This page is an archive of a community-wide discussion. This page is no longer live. Further comments or questions on this topic should be made in a new Senate Hall page rather than here so that this page is preserved as a historic record. Toprawa and Ralltiir 07:57, February 25, 2012 (UTC)
---
Hello everyone. Welcome to Wookieepedia's second barn-burner. Following the highly successful first barn-burner dealing with Wookiees three months ago, this barn-burner has been decided by community vote to be about weapons. Yes people, if it can stab, shoot, stun, cut, fry, disintegrate, decimate, or burn (especially burn) someone, then you can write it for this barn-burner. Best of luck to everyone!
Purpose and overview
Edit
Like the previous barn-burner created by Menkooroo, this project is designed to be a community effort where every member can contribute it some fashion. The main purpose of this barn burner is to write and promote weapon articles to CA, GA, and FA status. Like in the previous barn-burner, if we can manage to pass seven or more FAs, we can maybe convince our friends in the Inquisitorius to hold a "Weapons Week" on the main page.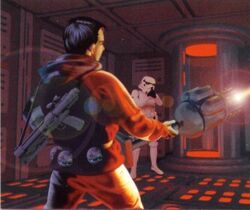 While the main focus of this barn-burner is to have fun writing and nominating weapon articles, participants can also have fun in other ways, including by reviewing other nominations. By reviewing other articles, you may learn different ideas and concepts on writing your own articles. Also, by helping review other Users' nominations, you may encourage other Users to review your own articles. I also encourage all participants to regularly log on to the Wookieepedia:IRC channel so we can exchange ideas and help coordinate the barn-burner. If you have any problems logging onto the IRC channel, please drop me or an Administrator a message on our talk pages so we can help you out.
The term "weapon" is very broad and general, and can include knives, swords, blasters, grenades, lightsabers, superlasers, and whole bunch of other stuff. It will be up to us to decide what exactly applies as a "weapon." For example, a stun baton was designed for nonlethal user, however, you can still use a stun baton by incapacitating someone, and we can still count it as a weapon. Also, just because something isn't a piece of technology or isn't mechanical doesn't mean it doesn't count as a weapon. For instance, Yuuzhan Vong use living organisms as weapons, and you can still do them as part of this barn-burner.
Another issue we will have to address is the fact that weapon articles have no Layout Guide to follow. Remember, follow the general Wookieepedia:Layout Guide when you're writing your articles. Prior promoted weapon articles usually have a Description and History section, but this doesn't apply for ever promoted weapon article, and this won't apply for all weapons articles we do. Don't be afraid to ask for ideas about how to set up a Layout for your articles.
The barn-burner starts August 1st, but feel free to start thinking of weapon articles to work on. You can now sign up for the project and let me know that you want to help lead this barn-burner to greatness! Kilson(Let's have a chat) 00:00, July 23, 2011 (UTC)
Ideas for weapon projects
Edit
There are literally hundreds upon hundreds of weapon articles on the Wook, many of which are mere stubs. Those articles can be found at Category:Weapon stubs. However, searching through categories can be time consuming, and extremely boring, so here are a few suggestions that you may like for this barn-burner.
Personal weapons
Edit
The Wook has a number of weapons that were used by famous people in the Star Wars universe. These weapons are distinctive or advanced enough to deserve their own articles, many of which need some major work. Here are but a few:
Little known superweapons
Edit
We all know about the Death Star, but what about the other superweapons. Most of these will likely need to be FAed:
General weapons
Edit
As not all Users can write FAs on a regular basis, especially new Users, so I've found some smaller projects that participants mights want to do if they don't want to tackle the bigger FAs.
Melee weapons
Edit
Explosives
Edit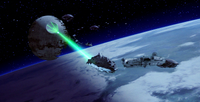 If you want to participate in the barn-burner, simply just create a subsection with your name and list the different weapon articles you wish to work on. That way, we can avoid confusion and prevent two different Users from fighting over a weapon article.
Project leader and manager.
Looking through my user page, I see I've stubbed a few weapons. Perhaps I should use this opportunity to flesh them out. Can't promise I'll get to all of these, but my short list includes:
Tried and failed to participate last time (May wasn't a free month for me). Let's try again.
I know at the very least I will have this article these articles on deck:
I didn't get in on the last barn-burner, so I'll be starting out slow here.
I'll try to do as many as I can before school starts.
In no particular order, my weapons of choice.
I'll try, but my birthmonth ended up being bad timing for me. :)
Current nominations
Edit
Once you have nominated a weapon article for status, please record your nomination in the appropriate field. It's the best way we can keep track of who nominated what, and which nominations still need reviews. Remember, try to help each other out by reviewing others' nominations.
| | | | |
| --- | --- | --- | --- |
| Article | Nominator(s) | Notes | FAN |
| | | | |
| --- | --- | --- | --- |
| Article | Nominator(s) | Notes | GAN |
| | | | |
| --- | --- | --- | --- |
| Article | Nominator(s) | Notes | CAN |
Promoted articles
Edit
After a weapon article passes because of the barn-burner, please place it and its new status in the box below. Hopefully it will get as big as the last barn-burner's box!
Weapons (Prior to Barn-burner)
Weapons promoted by this barn-burner
Source requests
Edit
No one has every source, but if you want to nominate a weapon article, you need to check every applicable source. In these cases, please a message below asking for a weapon to be looked up in a source you do not have. Hopefully, someone will have the source, and can provide the necessary info. I also ask participants to regularly check this section so we can find out who needs what. It would be awesome if we can all help each other out.
Battle wagon in EGTC
Edit
OK, here's one: My copy of The Essential Guide to Characters is inaccessible at the moment, but Google Books search tells me the Ewok battle wagon is mentioned in Wicket's entry. Can anyone check and tell me what it says, with the page number, preferably? Thanks! ~Savage

04:18, July 24, 2011 (UTC)
Ammonia bomb
Edit
Hoo boy, I'm gonna need a couple sources for this one... To make it easier, I don't necessarily need the actual entries; bullet points will do just fine. I've worked from those before without trouble and they're my preferred notes. Anywho, I need information (and page numbers) on "ammonia bomb" from the following:
Much thanks! Hopefully, if given enough information, I can bump this one up to possible GAN. Trak Nar Ramble on 04:31, July 27, 2011 (UTC)
Janta knife
Edit
Could someone check and see if the Janta knife appear in any of these sources: Star Wars Galaxies: The Total Experience: Prima Official Game Guide, Star Wars Galaxies: An Empire Divided Quick Reference Guide, Star Wars Galaxies: An Empire Divided: Prima's Official Strategy Guide, or Star Wars Galaxies: Jump to Lightspeed: Prima Official Game Guide. I have no idea if the knife is in any of these sources, but I thought I should check to make sure.--Exiled Jedi

(Greetings) 03:14, July 28, 2011 (UTC)
Could someone check and see if the Janta knife appears in Star Wars Galaxies: The Complete Guide: Prima Official Game Guide? I forgot that this one existed.--Exiled Jedi

(Greetings) 16:05, August 17, 2011 (UTC)
Hi Exiled Jedi, I had answered the question on my talk page. I've only got Prima's official digital eGuide version, but as far as I know, it's identical to the printed version. --Craven 17:29, August 17, 2011 (UTC)
Thanks.--Exiled Jedi

(Greetings) 17:44, August 17, 2011 (UTC)
K26 explosive antivehicle rocket
Edit
I am looking for someone with Arms & Equipment Guide for confirmation on the information on the K26 explosive antivehicle rocket, and whether it appears in any other sources. Thanks. -- Riffsyphon1024 05:35, August 3, 2011 (UTC)
Scepter of Ragnos
Edit
I have the Scepter of Ragnos article on GAN, and I need to know if there is any relevant info about it in the Star Wars: Jedi Knight: Jedi Academy: Prima's Official Strategy Guide. Thanks. Cal Jedi
(Personal Comm Channel) 01:04, August 17, 2011 (UTC)
General discussion
Edit
If you have any other questions, comments, or ideas for the barn-burner, just place them right here.
Distinction between a weapon and a vehicle?
Edit
I'm thinking it might be fun to FA Ewok battle wagon, but I'm not sure it's a proper "weapon." What say all of you? Weapon, vehicle, or hybrid? Applicable to this barn burner or wait for a hypothetical "vehicles" BB? ~Savage

02:30, July 23, 2011 (UTC)
100px

— Pew! Pew!
SH:Project Weapon: Wookieepedia's Second Barn-burner was nominated and gained status as part of Wookieepedia's second "Barn-burner," focusing on weapons. The barn-burner ran during August 2011.
Whaddyall think? Menkooroo 07:59, July 23, 2011 (UTC)
A Combined Project?
Edit
Hey everyone I was just thinking that it would be great if several users could work together to tackle a weapon that has been in a lot of sources. Doing a multi-user featured article nomination on DL-44 heavy blaster pistol, EE-3 carbine rifle, E-11 blaster rifle, DH-17 blaster pistol, or maybe even the lightsaber article. Granted, it will be a huge amount of work, but I think that with around a half dozen users, with at least one being experienced in writing FAs, one of these articles could become a featured article. Some users could help find sources and appearances for the item and not even have to write the article if they wanted to do that. Just a thought, if anyone likes the idea, please leave a comment below that includes your thoughts on which article you think we should do.--Exiled Jedi

(Greetings) 13:03, July 27, 2011 (UTC)
Cal Jedi (Personal Comm Channel) 19:30, July 27, 2011 (UTC)

Exiled Jedi

(Greetings)

19:56, July 27, 2011 (UTC)
Confusion on weapon articles
Edit
Hey, I just wanted to know what is supposed to go in the model and type fields of the weapon infobox. The good article, DC-19 "Stealth" carbine, has the model designation in the model with the type field having blaster carbine in it. However, the blastsword, a featured article, has blastsword in the model field with the type field containing the type of damage it dealt. I would like to know which is the correct way to do it.--Exiled Jedi

(Greetings) 22:25, July 27, 2011 (UTC)
KOTOR II image request
Edit
Could someone get me an image of the Zersium rifle from KOTOR II that is more of a close up on the item, instead of the current image which is way too large.--Exiled Jedi

(Greetings) 21:33, July 31, 2011 (UTC)
"Owners" field of the Weapon infobox
Edit
Currently, Icehead club is up at GAN, and there's a bit of confusion about how to treat the "Owners" field of Template:Weapon, the weapon infobox most of us are using for our barn burner articles. The question pertains to whether the field applies to all weapon articles, or only to articles about specific weapons. An example might be lightwhip (a type of weapon) and Lumiya's lightwhip (a specific example of that type of weapon). I think most of us would agree that Lumiya's lightwhip should list Lumiya in the "Owners" field of the infobox, but should the generic lightwhip article list her too as a known owner of a lightwhip? There are examples to support both takes on the field, with a few recently promoted articles, such as Knuckles of the katarn and Shikkar, supporting the all-inclusive option to include "owners" in articles on weapon types. And if we take the more inclusive route, what about articles on weapons that have hundreds of known users, like lightsaber? Hopefully this is a fair enough assessment of the issue. What say you folks? ~Savage

03:21, August 2, 2011 (UTC)
Zabrak Tystel Mark III
Edit
Hello, I have a couple of things I would like to ask about the Zabrak Tystel Mark III:
Exiled Jedi

(Greetings)
17:02, August 17, 2011 (UTC)