So you may recall that a while back I tracked down some cel model sheets for the Ewoks cartoon that include some spellings for things that we didn't have canonical spellings for, as well as sheets for the three groups from the cartoon - Kagles, Pugs, and Tambles - that we were unsure if the names referred to the whole species or just the group. Well I'm pleased to announce that I've not only tracked them down again, but screencapped and uploaded them! Submitted for your approval: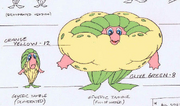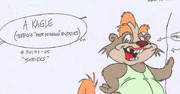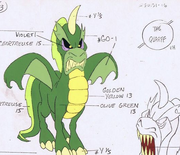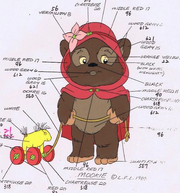 Anxious to hear everyone's thoughts! Rod (talk) 14:15, May 28, 2017 (UTC)
Thanks, Rod, for following up on this. I haven't even gotten around to making the fixes I suggested in the original thread. I, too, captured a number of the images from the eBay listings, though they're sitting in an unsorted heap on my hard drive right now. So I'm glad someone is doing something to preserve them. Asithol (talk) 00:31, June 27, 2017 (UTC)

I love looking at stuff like this. I'll admit I even have a couple of original animation cells from Care Bears and My Little Pony Tales hanging on my wall. Very nice work on this. So is the question then whether we should use this information in articles? It's an official source from the production, so personally, I would say yes in lieu of contradictory information. ProfessorTofty (talk) 14:51, June 29, 2017 (UTC)

Well obviously I think it should be used; that's why I brought it here! One that I wasn't able to track down but that I remember from my first run through these - Morag's pet is from a species called "Two-headed Skee." Rod (talk) 02:50, July 21, 2017 (UTC)
Ad blocker interference detected!
Wikia is a free-to-use site that makes money from advertising. We have a modified experience for viewers using ad blockers

Wikia is not accessible if you've made further modifications. Remove the custom ad blocker rule(s) and the page will load as expected.