This page is an archive of a community-wide discussion.
This page is no longer live.
Further comments or questions on this topic should be made in a new
Senate Hall
page rather than here so that this page is preserved as a historic record.
1358
(Talk)
20:44, May 9, 2014 (UTC)
---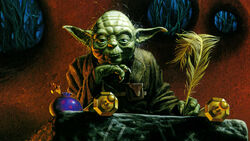 I've been toying with the idea for some time, although I never really intended to tell it. However, after Abel G. Peña himself encouraged me to do so during a conversation on Facebook, I think the time has come to open that line of discussion with the community. I propose that we launch an online Star Wars fanzine made by us Wookieepedians. There, I said it. Not just a fanzine, actually, but a "scholarship journal."
Because Wookieepedia was designed as an encyclopedia, our attribution policies forbid, rightly so, to avoid "all that introduces a theory, speculation, or any other original idea." On that level, things are just the way the should be. We've based our procedures on real-life scholarship, and we have the right to be proud of that.
However, academic life goes beyond reference books and scientific dogma. One of the core activities of scholarship is disputation, which suggest debates, theories and speculation. While original research should always stay out of the encyclopedia, it deserves a place of its own. A place where speculative "papers" pertaining to the GFFA could be written. In order to stay professional, we would still adhere to strict rules as regards sources and references, of course. Speculation and original research? Yes, but not without solid foundations.
Hints of my that project appeared in my WOTM interview. When Menkooroo asked me what kind of role Wookieepedia should play in the broader fan community, here is what I answered: "Scholarship is a constant quest, an attempt to tie events together and then give them a sense and meaning. In the past few years, our reputation has grown within the community to the point that we've influenced canon. Voices have been heard concerning our "meddling" with canon, which to me seems an injustice. Granted, we are not Lucasfilm officials, but I do think Wookieepedia has been serving its purpose well and has helped maintaining canon. That is something I'm immensely proud of." Now I'm telling you that we could go even further.
Wookieepedia has proved both its worth and influence of the years. Abel Peña himself told me that the Wook "has many if not most of the most knowledgeable Star Wars fans on Earth. It could become like the mecca of a Star Wars scholarship journal, and a force for influence and good regarding sensible analysis of the mythos." If the very words of Halagad Ventor himself cannot convince you, I doubt anything will.
That journal project is a chance, a new opportunity for us Star Wars scholars to contribute even more to the longevity of our favorite franchise. While I haven't come here expecting torrents of enthusiasm, I still wish I will be agreeably surprised. The franchise is currently undergoing major changes. I believe this is an opportune moment for new ambitions! Might I add this would prove wrong those who think of us as circumspect, passionless fellows.
Sincerely, I have faith in this project, and hope some of you will indeed join me. Wookieepedia has terrific writers within its ranks, and having them writing for the scholarship journal would greatly benefit to the fandom, methinks. I would like to thank in advance all those who will take the time to read this and post a reply, regardless of its content. --LelalMekha (talk) 19:21, August 18, 2013 (UTC)
Hmm. I will wait to see what others have to say before I determine my opinion. For now, I will simply call this "interesting". —MJ— Council Chambers 23:03, August 18, 2013 (UTC)
Eh, why not.

IFYLOFD

(

Enter the Floydome

) 01:17, August 19, 2013 (UTC)
This does indeed sound interesting. Supreme Emperor (talk) 01:19, August 19, 2013 (UTC)
Colour me intrigued, though I wonder about the practical implementation. — DigiFluid(Whine here) 01:28, August 19, 2013 (UTC)

I'm just throwing a very general idea, here. The practical implementation would of course be discussed if there are enough people interested with the concept. From the top of my head, I think of a collection of essays (in the style of those once made by Peña for the Star Wars Fanboy Association), which we would release periodically, perhaps in PDF form, on our newsnet. There could be both IU and OOU essays, and for those who want "heated discussions," there could also be other essays in the form of dialogues. --LelalMekha (talk) 09:10, August 19, 2013 (UTC)

If it really involves heated-discussions, I'm in. Just kiddin', I think I can help with something (other than fistfight). Winterz (talk) 01:59, August 19, 2013 (UTC)

I hereby provide you with a very rough draft for "writing rules" I made this morning. As you can see, its precise enough to look professional and loose enough not to become constraining. Of course, at this stage, it looks quite "dry." But the papers themselves would be only a part of our journal. We may need the more graphically gifted among us to give it a touch of life, and we may have a few "lighter" features based on what people want. --LelalMekha (talk) 21:26, August 19, 2013 (UTC)

I don't want to be a pain in the ass or anything but there are some people that would've liked to see an example beforehand. Is it possible for you to draw a tiny draft with one or two small essays and also including some of the other "applications" you mentioned? It would be really helpful ;) Winterz (talk) 21:42, August 19, 2013 (UTC)

I have no idea how to write a journal piece, but hey, what the heck, I think its a good idea. 501st dogma(talk) 21:32, August 19, 2013 (UTC)
Lelal, do you have an example written journal to share? Or what you are looking for? That would definitely clear up some confusion.

JangFett

(Talk)

21:48, August 19, 2013 (UTC)

Actually, Jang, what I would like to create is something like a bimonthly collection of articles written by Wookieepedians, which we could release in PDF print-frienldy form. The proposal is deliberately vague, because I first want to hear what people think of the mere idea. If you want to give a yourself an idea, check something like what Peña did back in the days when he was still "just a fan." Now imagine a collection of such articles written by us, gracefully formatted and made available for print. --LelalMekha (talk) 21:58, August 19, 2013 (UTC)

I'd be happy to help in any way I can! Ayrehead02 (talk) 11:13, August 20, 2013 (UTC)
I'd love to write something about all the blue people in Star Wars. There are tons of blue people with no specie ID. Are they Wroonians? Are they Pantorans? Talorans? Something else? This may seem silly, but I think this is the kind of thing Lelal has in mind. ~Savage 12:20, August 24, 2013 (UTC)
I want to help with this! I hope that the scholarly discussion would be for both in-universe and out-of-universe topics. For instance, I could see two articles about the changing Jedi views on marriage, one for in-universe (Clone Wars era vs. New Republic era, discussing the shifting attitudes of the contemporary Jedi) and one for out of universe (pre-Attack of the Clones vs. post-Attack of the Clones, discussing the boatload of retconning that needed to happen). -Thunderforge (talk) 04:01, September 12, 2013 (UTC)
I've always found journalism kinda interesting, and music journalism is a possible career I have in mind. This could be fun for me. :D MasterFred(Whatever) 04:47, September 12, 2013 (UTC)