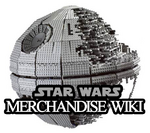 That's right, folks! Today begins a new activity: Merchandise Wiki Wednesdays. "What's that?", you ask? Why, it's simple: you just channel some of your Wookiee-energy into the Star Wars Merchandise Wiki... on Wednesdays. Actually, do it whenever you want, but why not at least once a week on Wednesdays? If you've accumulated as much Star Wars crap over the years as I have, you should have no problem finding something, maybe taking a picture of it, and give it an article and making the proper categories by which to find it. Or just make some categories anyway. Or fix some stuff. Or just improve it in whatever way you can. Do your wiki thing. -- Ozzel 22:52, 28 May 2008 (UTC)
Ad blocker interference detected!
Wikia is a free-to-use site that makes money from advertising. We have a modified experience for viewers using ad blockers

Wikia is not accessible if you've made further modifications. Remove the custom ad blocker rule(s) and the page will load as expected.