Take a look: Main Page/editable.
If you want to test it on other pages, copy the source text for Main Page/editable/monobook.css to your user CSS, which is located at User:Username/monobook.css. "Monobook Lite" is just a codename I'll refer to the skin in the future, for the lack of a proper name.
If you don't see any difference with the actual Main Page, it means that MediaWiki:Monobook.js doesn't load, so you probably don't have the [Hide] button on infoboxes either (check it). The skin is CSS only, JavaScript is only need to plug it (and for an IE workaround, see below).
Tested on (the system is Kubuntu 6.06):
Firefox 1.5.0.3
Opera 8.54 and 9.0
IE 6.0, Windows 98/Me/2000 Edition (Wine 0.9.18, installed with ies4linux)
Konqueror 3.5.2
Safari feedback is welcome.
Known issues:
The menus don't work in IE without JavaScript (IE doesn't allow :hover for elements other than <a>, so a workaround in Monobook.js is needed)

Solution: No pure CSS solution, at least one I know of. Enable JavaScript or, if it's unacceptable, switch to Firefox with the NoScript extension for per-site JavaScript control.
Possible solution: Persuade Wikia to wrap .portlet divs in a's. Upgrade issues arise, though, and I doubt Wikia will want to touch the default HTML or CSS.

In Opera 8.54, when a menu is hidden, the underlying area is redrawn incorrectly.

Solution: Upgrade to Opera 9.

Only the "user" menu is shown and works in Konqueror, although the changing cursor indicates that other menus are there, just not working.

Solution: Completely clueless. If there are Konqueror users with an idea how to make it work, I'd greatly appreciate that.
Here's my Firefox rendering. StarNeptune's renderings in Windows Firefox and IE are shown on the right. - Sikon [Talk] 15:10, 5 August 2006 (UTC)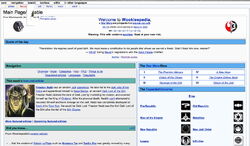 The 'User' and 'Navigation' buttons work fine on Safari, but Search and Toolbox overlap weird (see my upload). Wikia and Other Languages don't work at all. RMF 20:44, 5 August 2006 (UTC)
I just wanted to point out that the modifications to Mediawiki:Monobook.js seem to have done something to the p-personal div block. When using Internet Explorer 6, it now jumps from right to left onmouseover().–SentryTalk 09:48, 6 August 2006 (UTC)

Fixed. However, now, if you use IE (why?) and want to use the skin as your user CSS, you will also have to copy MediaWiki:Skin/Main Page/editable/monobook.js to your user monobook.js subpage. For non-IE users, this isn't necessary. - Sikon [Talk] 01:58, 7 August 2006 (UTC)