This page is an archive of a community-wide discussion.
This page is no longer live.
Further comments or questions on this topic should be made in a new
Senate Hall
page rather than here so that this page is preserved as a historic record.
1358
(Talk)
17:19, September 21, 2013 (UTC)
---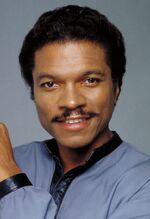 Hello all. I come to you to present a proposition of a name change for the position of Bureaucrat here on Wookieepedia, a position that I've held since February 2006 and several others have had the distinction of holding in the last eight years. I've been pondering this for quite some time, and I feel it is long overdue. What makes sense is a name that is less associated with "big wigs" and something that represents a true leadership role, as well as falling within the Star Wars universe. For these reasons, I propose the new name of Baron Administrator to replace the name of Bureaucrat in that position. I hope that my fellow Bureaucrats (see it just sounds weird) will accept this new title. Plus who wouldn't want to be like suave Lando Calrissian? Once again, Wookieepedia will distinguish itself with this rather small but pleasant change. Please offer comments, considerations, thoughts below. Should we move this to a Consensus Track for an official vote if it becomes supported? Thank you. -- Riffsyphon1024 18:27, June 13, 2013 (UTC)
Ad blocker interference detected!
Wikia is a free-to-use site that makes money from advertising. We have a modified experience for viewers using ad blockers

Wikia is not accessible if you've made further modifications. Remove the custom ad blocker rule(s) and the page will load as expected.