This page is an archive of a community-wide discussion. This page is no longer live. Further comments or questions on this topic should be made in a new Knowledge Bank page rather than here so that this page is preserved as a historic record. jSarek 21:37, 11 April 2008 (UTC)
Ysalmiri are creatures from Myrkr who can create a "force bubble" that prevents force powers and stuff from working within the bubble. A fantastic example is Joruus C'baoth trying to force lightning Thrawn while he had a ysalmir on him.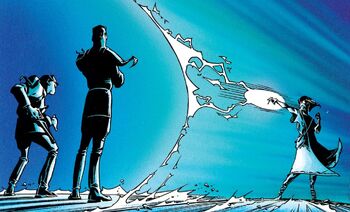 What I don't get is how the ysamlir are supposed to work now that the force is determined by midichlorians and all. What's a ysalamir do, turn midichlorians off all of a sudden? Are they some void in the force like the Yuuzhan Vong? I just don't quite get how it's supposed to fit in now. Thunderforge 02:31, 7 February 2008 (UTC)
My hypothesis (and note, this is merely a hypothesis, unsupported by canon at this time) is that they don't repel the Force so much as "lock it down," keeping it from flowing or being manipulated. The Force is still *there*, but since currents of it can't carry information nor be used to manipulate things, the effect for Force users is as if it were absent. jSarek 02:38, 7 February 2008 (UTC)
Here's another hypothesis (again, it is not supported at all by canon), but maybe they emit some kind of disruptive energy that incapacitates midichlorians? Obviously it wouldn't kill them, but if the midichlorians were temporarily unable to function, wouldn't the force in their vicinity be knocked out?
Ysalamiri did not actually negate the Force; since all existence was infused with Force energy this would not be possible. Rather,they projected a Force bubble inside which it is completely neutral and unable to exert any influence. A single bubble measured up to 10 meters in diameter; groups of ysalamiri could extend this radius by miles, depending on how large the group was.Musclebob BuffPants 01:52, 9 February 2008 (UTC)
jSarek's theory makes sense. I wouldn't be surprised if there's no official explanation though.

Chack Jadson

(Talk)

02:00, 9 February 2008 (UTC)
Musclebob, while I agree (you'll note my hypothesis is pretty much the same as yours), the only official descriptions of ysalamiri paint their ability as actually *repelling* the Force. I agree that, given what the Force is, that makes no sense, but until some author decides to clarify the matter in the fashion we describe, it's a fanon idea rather than a canon one. jSarek 02:10, 9 February 2008 (UTC)
I understand.Musclebob BuffPants 05:59, 9 February 2008 (UTC)
I Have know Idea how a salamander blocks force powers like in the video game Jedi Outcast.-Jediknight13