As everyone knows, we've been working on new skins for visitors (existing users will still see their existing skin preference). We took all the feedback from our v1 release and worked it into a v2 version that we debuted a few weeks ago. As part of that code release, we also made widgets available. We've been adding a few here and there and are getting input from users on what would be most useful.
As we continue introducing the v2 skins for visitors across Wikia, we wanted to get your input on what style of v2 skin you'd like us to use. Below is a rendition using your existing style along with 2 others that might be of interest if you want them... sort of a "light side" / "dark side" choice (we'll probably make these available for users to select for their individual preference later if they want them).
Here are the mockups. These are based on the QuartzSmoke or QuartzSlate skin so you can try out the v2 skin there if you haven't seen it.
Thanks,
Johnq
(talk) 03:04, 22 August 2007 (UTC)
The mockups below are, in order of appearance: current style, "light" side, "dark" side.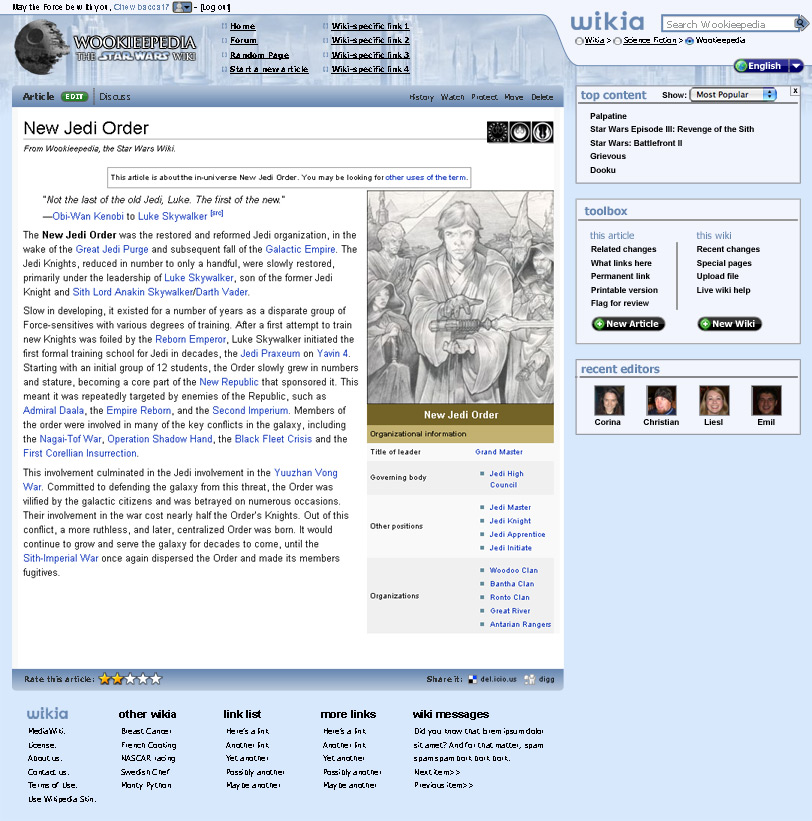 Questions/comments/concerns
Edit
My widget customizations aren't sticking. Any idea why? --

Darth Culator

(Talk) 04:29, 22 August 2007 (UTC)
I really like the "lightside" version. Although, I don't like the design of the new skin, at all. It's pretty, though. Well done. --School of Thrawn 101 05:01, 22 August 2007 (UTC)
Can the sidebar be narrowed, puh-lease? Say, to 220px? - Sikon 08:20, 22 August 2007 (UTC)
Ok, we're planning on turning on one of these designs as the visitor default for wookieepedia on Monday, August 27th. If no one expresses any interest in the light/dark side ones, we'll just use the style you're using now. So if there's any interest in any of the others, now would be a good time to let us know. :) Thanks. Johnq (talk) 23:17, 24 August 2007 (UTC)

I say include the other two, but use the default one (the present one) for the standard. Jorrel Fraajic 02:57, 25 August 2007 (UTC)
The "dark side" skin looks very nice. 69.116.177.57 04:30, 25 August 2007 (UTC)
The whole thing looks very beautimus, but I can't take it!! The old one (currnet when I log in) is more organized, and, frankly, looks better. Jedipilot94 (*Fo-Shizzle*) 21:40, 30 August 2007 (UTC)
Jedipilot94, did you know you can move the boxes in the side bar to put them in an order you prefer? Just pick them up from the top and drag. You can also add boxes from the widgets menu (click your name at the top for a dropdown), which will include customisable boxes in the future. So with this skin, you can decide how things are organised. -- sannse
(talk) 08:48, 31 August 2007 (UTC)
How long until I can pick lightside, darkside, etc.? I still prefer monobook, but keep the new one. Many people may like it, but me, ME doesn't particularly like it. I shouldn't be so picky, but once the side bar is reduced even more, I may change mind. Maybe. Jedipilot94 (*Fo-Shizzle*) 00:38, 1 September 2007 (UTC)
As long as the monobook skin remains available, you can make as many new skins as you want. I'll stick to monobook, I'm used to it and I think it looks better than the new skins. I like the themes of the new skins though, but not the lay-out. But since I'm not a visitor, I guess my comment is irrelevant. KEJ 09:35, 31 August 2007 (UTC)
So there's no option of not having the V2 skin when I'm not logged into my account? No offense intended to those responsible for designing the skins, but I hate them. Er....the skins, that is, not the designers. That oversized and IMO useless side bar just clutters the screen. :( — Red XIV (talk) 04:44, 20 September 2007 (UTC)
Ad blocker interference detected!
Wikia is a free-to-use site that makes money from advertising. We have a modified experience for viewers using ad blockers

Wikia is not accessible if you've made further modifications. Remove the custom ad blocker rule(s) and the page will load as expected.