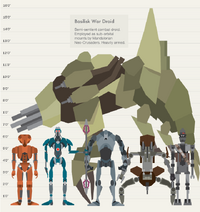 A fourth-degree or class four droid was a droid programmed for military and security purposes. Such droids tended to perform tasks wherein violence or combat might be expected. Class four droids were grouped into four major categories: security droids, which were used to guard locations; gladiator droids, which were designed to battle other droids; battle droids, which were the most common variety and used in standard combat; and assassin droids, the only variety expressly designed to kill organics.
Appearances
Edit
Ad blocker interference detected!
Wikia is a free-to-use site that makes money from advertising. We have a modified experience for viewers using ad blockers

Wikia is not accessible if you've made further modifications. Remove the custom ad blocker rule(s) and the page will load as expected.