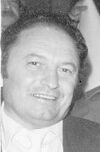 Frank Giacoia (1925 – 1989) was a comic book artist who inked an issue in the Marvel Star Wars series.
Giacoia was the high-school classmate of fellow comic artist Carmine Infantino, and the two worked together occasionally through the years. His early work was in the 1940s for various companies including DC Comics. During the 1960s he inked Jack Kirby's pencils on the popular Captain America series for Marvel Comics. Through the 1970s and 80s he worked on many newspaper strips including Flash Gordon and The Amazing Spider-Man.
Star Wars bibliography
Edit
Ad blocker interference detected!
Wikia is a free-to-use site that makes money from advertising. We have a modified experience for viewers using ad blockers

Wikia is not accessible if you've made further modifications. Remove the custom ad blocker rule(s) and the page will load as expected.