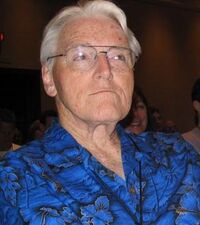 Frank Springer (born December 6, 1929) is a comic artist who worked on the Marvel Star Wars comic series. In 1955 Springer began in the comics industry as an assistant to George Wunder on Terry and the Pirates. During the 1960s he worked mainly for Dell Publishing on titles such as Charlie Chan and Brain Boy. The following decades through the 1980s Springer worked for a number of publishers including DC Comics and Marvel Comics on titles such as Spider-Man and Transformers.
Star Wars bibliography
Edit
Ad blocker interference detected!
Wikia is a free-to-use site that makes money from advertising. We have a modified experience for viewers using ad blockers

Wikia is not accessible if you've made further modifications. Remove the custom ad blocker rule(s) and the page will load as expected.