Ad blocker interference detected!
Wikia is a free-to-use site that makes money from advertising. We have a modified experience for viewers using ad blockers

Wikia is not accessible if you've made further modifications. Remove the custom ad blocker rule(s) and the page will load as expected.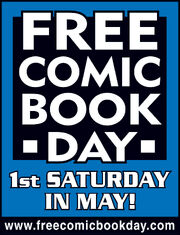 Free Comic Book Day is an annual day when comic-book retailers give out free single-shot issues of comics to entice new buyers. It began in 2002 and is held on the first Saturday in May.
Dark Horse released various Star Wars comics on Free Comic Book Day. Marvel Comics has not released a Star Wars Free Comic Book Day comic since reattaining the license in 2015.
Star Wars releasesEdit
| | | |
| --- | --- | --- |
| Collected (TPB) issue | Released issue | Future issue |
Issue
Title
Publication date
Trade paperback
TPB pub date
Omnibus collection
Omnibus pub date
2002
A Jedi's Weapon
May 2002
Star Wars Tales 12
June 5, 2002
2003
No Star Wars comic
2004
Hide in Plain Sight
May 2004
Clone Wars Adventures: Volume 2
November 17, 2004
2005
Brothers in Arms
May 2005
Clone Wars Volume 7: When They Were Brothers
November 30, 2005
Omnibus: Clone Wars Volume 3: The Republic Falls
December 19, 2012
2006
Routine Valor
May 6, 2006
Star Wars Fan Club Special 2008
March 2008
2007
No Star Wars comic
2008
No Star Wars comic
2009
The Clone Wars: The Gauntlet of Death
May 2, 2009
The Clone Wars: In Service of the Republic
June 16, 2010
2010
No Star Wars comic
2011
The Clone Wars: Opress Unleashed
May 7, 2011
The Clone Wars Volume 7: Strange Allies
October 12, 2011
2012
The Art of the Bad Deal
May 5, 2012
Star Wars Volume 4: A Shattered Hope
October 15, 2014
2013
The Assassination of Darth Vader
May 4, 2013
Star Wars Volume 1: In the Shadow of Yavin
September 18, 2013
2014
No Star Wars comic
2015
No Star Wars comic
2016
No Star Wars comic
External links
Edit