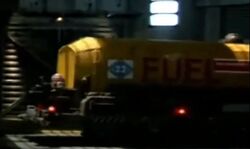 Fuel trucks were vehicles that delivered fuel to other vehicles, including the StarSpeeder 3000 spaceliners belonging to the Star Tours travel agency.
At least one truck was sighted on Coruscant between 1 BBY and 0 BBY.
Several were stationed on a Star Tours-owned spaceport. When the pilot droid RX-24 returned with ST-45 to the spaceport shortly after accidentally participating in the Battle of Death Star III via hyperspace, he had a near-crash with one of the fuel trucks.
Appearances
Edit