Kenobi: "Now we may continue Master Halsey's memorial service. Being used as a pawn to slay his fellows would have grieved him terribly..."
Windu: "Perhaps his soul will rest easier, Obi-Wan—knowing you prevented that!"
―Obi-Wan Kenobi and Mace Windu
A funeral was held in 21 BBY at the Jedi Temple for Jedi Master Halsey, who had been killed on Devaron by the Nightbrother Savage Opress during a battle at the Temple of Eedit.
The funeral
Edit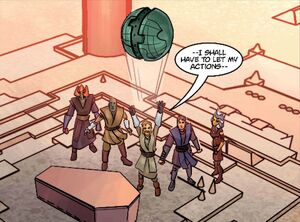 The Confederacy of Independent Systems wished to kill those at the funeral, so three Weequay agents carefully placed a dioxis bomb inside the coffin. Jedi Master Obi-Wan Kenobi discovered this and removed the bomb before Grand Master Yoda could light the coffin, thus saving all those present.
Appearances
Edit
Notes and references
Edit