Futor was a Sullustan infochant who operated Futor's Network onboard Omze's Incredible Traveling Starport. He was shorter than the average Sullustan. His eyes were squinted from long period of time looking at datascreens. He often wore shaded goggles to filter out the glare of the viewscreens and propped them above his eyes when not in use.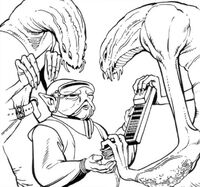 Before working for Omze he was a computer controller for SoroSuub Corporation on Sullust. He left his job with a price on his head when he was discovered stealing important corporate data and selling it to the highest bidder.
Futor operated as a infochant and slicer for hire until he was hired by Omze to infiltrate Sienar Fleet Systems databanks at their facility on Byblos. Following this Omze retained Futor as his personal infochant onboard his Incredible Traveling Starport.
Ad blocker interference detected!
Wikia is a free-to-use site that makes money from advertising. We have a modified experience for viewers using ad blockers

Wikia is not accessible if you've made further modifications. Remove the custom ad blocker rule(s) and the page will load as expected.