Gabredor III was a planet situated between Dantooine and Obtrexta sector, in Myto's Arrow. It had a Karazak Slavers Cooperative transfer center under the authority of slave master Greezim Trentacal. Trentacal kidnapped the children of the Ambassador of Cantras Gola to force the PowerOn Conglomeration to remain with the Alignment; in exchange, the Alignment agreed not to interfere with Karazak operations. The center was destroyed by the Red Moons, who rescued the children and other slaves.
Appearances
Edit
Notes and references
Edit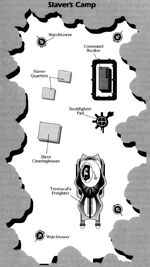 Ad blocker interference detected!
Wikia is a free-to-use site that makes money from advertising. We have a modified experience for viewers using ad blockers

Wikia is not accessible if you've made further modifications. Remove the custom ad blocker rule(s) and the page will load as expected.