Galactic Crisis! is a young readers book written by Ryder Windham that was published by DK at reading level 4.
Publisher's summary
Edit
Read the thrilling story of the Clone Wars, from the first battles to the dramatic events in Revenge of the Sith.
Secret identity
Naboo threatened
Escape to Tatooine
Criminal world
Fight for freedom
Anakin saves Naboo
Ten years later
Padmé in danger
Surprise at Kamino
The clone army
Secret plans
Taken prisoner
Execution arena
In secret
Dooku betrayed
Split loyalties
Total power
Attack on Mustafar
Terrible duel
Birth and death
The future
Glossary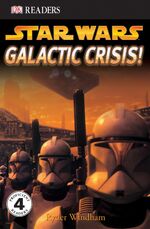 Ad blocker interference detected!
Wikia is a free-to-use site that makes money from advertising. We have a modified experience for viewers using ad blockers

Wikia is not accessible if you've made further modifications. Remove the custom ad blocker rule(s) and the page will load as expected.