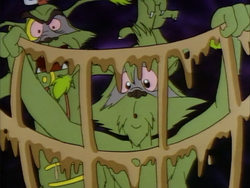 Ganga sap was a plant-derived substance found on the forest moon of Endor. The sap was extremely sticky.[1] In 3 ABY,[2] the Dulok shaman Umwak made a trap that consisted of a net soaked in ganga sap. Although he and his nephew attempted to use the net to trap some Ewoks in the Arbo Maze, the Duloks became entangled in their own trap during the ensuing skirmish.[1]
Appearances
Edit
Notes and references
Edit
Ad blocker interference detected!
Wikia is a free-to-use site that makes money from advertising. We have a modified experience for viewers using ad blockers

Wikia is not accessible if you've made further modifications. Remove the custom ad blocker rule(s) and the page will load as expected.