Ganner was head of security for the Imperial Ruling Council at De-Purteen.
Biography
Edit
During an investigation into the deaths of two Imperial Council members Burr Nolyds and Llon Banjeer, Ganner incorrectly concluded that the evidence secretly planted on the bodies proved that Kir Kanos was continuing his vendetta against the current Empire.
Appearances
Edit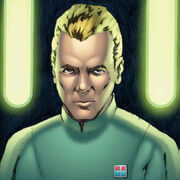 Ad blocker interference detected!
Wikia is a free-to-use site that makes money from advertising. We have a modified experience for viewers using ad blockers

Wikia is not accessible if you've made further modifications. Remove the custom ad blocker rule(s) and the page will load as expected.