Garos IV
Talk

0
113,176pages on
this wiki
Garos IV
Astrographical information
Region
Sector
System
Grid coordinates

P-7

Rotation period

25 standard hours

Orbital period

382 local days

Physical information
Class

Terrestrial

Atmosphere

Type I (breathable)

Climate

Temperate

Gravity

Standard

Primary terrain

Forest
Mountains
Oceans
valleys

Surface water

Moderate

Points of interest
Societal information
Immigrated species
Primary language(s)
Government
Population
Major cities
Major imports

High technology

Major exports

Foodstuffs
Metals
Minerals

Affiliation
Garos IV was a planet in the Mid Rim, the fourth world in the Garos system.
Geography
Edit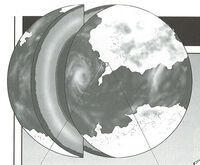 Garos IV was a pleasant world of forests, mountains and oceans. Its population was centered on a single continent in three major centers. It was most well known for the University of Garos.
In 25,000 BBY, a Ssi-ruuk experimental hyperdrive vessel crashed on the planet. In approximately 4000 BBY, the planet was colonized by Humans. Its war with neighboring Sundari was ended with a treaty in 118 BBY, but restarted in 87 BBY. The planet allowed Refugee Relief Movement settlement in 22 BBY, shortly before the Clone Wars.[1] Garos IV was the site of a victory for the Confederacy of Independent Systems over the Galactic Republic during the early stages of the Clone Wars.
During the reign of the Republic, the Garosian-Sundar truce was constantly violated, until the Galactic Empire took control. In 4 ABY, the site of the failed Ssi-ruuvi Hyperdrive system was found.[2] The Garosians sided with the Rebel Alliance and participated in the battle when the planet was liberated by the New Republic following the Thrawn campaign. The popularity of the University on planet caused an economic upswing during the years before the Yuuzhan Vong.
The Yuuzhan Vong conquered the world during their invasion of the galaxy.[3]
Garos IV was the homeworld of Brenn and Dellis Tantor, their father, and Alexandra Winger.
Technology
Edit
The Hibridium cloaking device was produced on Garos IV.
Appearances
Edit
References and notes
Edit
↑ 1.0 1.1  Mid Rim Worlds Open Ports to Refugees—HoloNet News Vol. 531 52 (content now unavailable; backup links 1 2 on Archive.org)