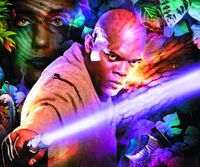 Ghôsh Windu was the Korunnai tribe/family to which Mace Windu belonged. It was once loosely affiliated with Ghôsh Rostu.
Windu and his "brother" Kar Vastor were the only known remaining members of the ghôsh by 22 BBY. All other members were killed in the Summertime War. The ghôsh nearly died out after Windu was killed at the hands of Supreme Chancellor Palpatine, however, Kar Vastor lived on.
Appearances
Edit
Ad blocker interference detected!
Wikia is a free-to-use site that makes money from advertising. We have a modified experience for viewers using ad blockers

Wikia is not accessible if you've made further modifications. Remove the custom ad blocker rule(s) and the page will load as expected.