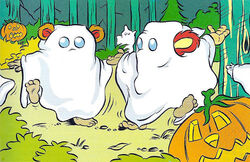 «Arroo!»
«Whazzat?»
«It's only me. This party is great fun, isn't it?»
―Teebo and Wicket W. Warrick in costume on Halloween
A ghost was a type of figure in the folklore of the Jedi Knights[1] and the Ewoks[2] of Bright Tree Village, located on the Forest Moon of Endor.[3] During the yearly festival known as Hallowe'en, many Ewoks dressed up as ghosts as part of the festivities. A ghost costume consisted of a white bolt of cloth pulled over the Ewok's head with round circles serving as eye holes.[2] In 3 ABY,[4] for instance, the Ewoks Teebo and Wicket W. Warrick chose to wear ghost costumes for the holiday. In this guise, Teebo scared Warrick as a prank.[2]
Appearances
Edit
Notes and references
Edit
Ad blocker interference detected!
Wikia is a free-to-use site that makes money from advertising. We have a modified experience for viewers using ad blockers

Wikia is not accessible if you've made further modifications. Remove the custom ad blocker rule(s) and the page will load as expected.