The Gigorans were sapient primates indigenous to Gigor. An empathic species, they could speak Basic but preferred their language of grunts.
Gigorans were very family-oriented and would readily sacrifice their own lives for their friends and family.Despite their appearance and strength, they were normally peaceful and docile in their native environment. However, if necessary, they could be quite dangerous fighters.[1]
Gigorans were an able-bodied species, valued as slaves in Mytaranor sector; due to this, slavers captured them and sold them at good prices. The Mytaranor Slaving Council resorted to using bounty hunters to capture Gigorans if needed.[2]
They evolved from cave-dwelling primates. And lived in hunter-gatherer home-clans, divided into smaller family groups. While they were fairly intelligent, they had only achieved stone-age levels of technology.[3]
Appearances
Edit
Notes and references
Edit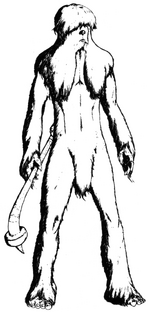 Ad blocker interference detected!
Wikia is a free-to-use site that makes money from advertising. We have a modified experience for viewers using ad blockers

Wikia is not accessible if you've made further modifications. Remove the custom ad blocker rule(s) and the page will load as expected.