Glova
Talk

1
103,520pages on
this wiki
Glova
Astrographical
Region
Sector
System
Suns

1: Glova

Grid coordinates

M-19[1]

Rotation period

22.3 standard hours[2]

Orbital period

375 local days[2]

Physical
Class

Terrestrial[2]

Atmosphere

Type I (Breathable)[2]

Gravity

Standard[2]

Primary terrain

Jungle, Low Hills, Fields

Points of interest
Societal
Immigrated species
Primary language(s)
Government

Appointed Governor[2]

Population

100,000[2]

Major cities
Major imports

All levels of technology[2]

Major exports
Affiliation
Glova was a semi-tropical planet in the Glova system colonized around 195 BBY. When its precious metals ran dry, its mines were abandoned, and the inhabitants turned to farming, becoming a leading supplier of food for planets in the region.
During the Clone Wars, the CIS controlled the sector.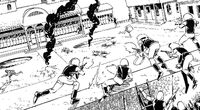 In 4 ABY, the world was declared neutral and ruled by Governor Tegist Byrg. Following the Battle of Endor, the New Republic maintained an embassy on this planet. Ambassador Robert Makina organized a mission to capture the governor and reveal his connections with the Galactic Empire.[2]
Appearances
Edit
Notes an references
Edit
↑ 1.0 1.1 1.2 1.3  Star Wars: The Essential Atlas Online Companion on StarWars.com (article) (backup link on Archive.org)