Glova was a semi-tropical planet in the Glova system colonized around 195 BBY. When its precious metals ran dry, its mines were abandoned, and the inhabitants turned to farming, becoming a leading supplier of food for planets in the region.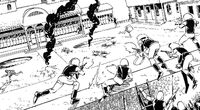 Around 4 ABY, the world was declared neutral and ruled by Governor Tegist Byrg. Following the Battle of Endor, the New Republic maintained an embassy on this planet. Ambassador Robet Makina organized a mission to capture the governor and reveal his connections with the Galactic Empire.[2]
Inhabitants
Edit
Glova was the homeworld of Tenk Lenso and Jek Pugilio.[3]
Appearances
Edit
Notes an references
Edit
↑ 1.0 1.1 1.2 1.3  Star Wars: The Essential Atlas Online Companion on StarWars.com (article) (backup link on Archive.org)
↑ 2.00 2.01 2.02 2.03 2.04 2.05 2.06 2.07 2.08 2.09 2.10 2.11 2.12 2.13 2.14 2.15 2.16 2.17 2.18 2.19  "The Politics of Contraband"—The Politics of Contraband
↑ 3.0 3.1 The Essential Guide to Warfare, p. 171
Ad blocker interference detected!
Wikia is a free-to-use site that makes money from advertising. We have a modified experience for viewers using ad blockers

Wikia is not accessible if you've made further modifications. Remove the custom ad blocker rule(s) and the page will load as expected.