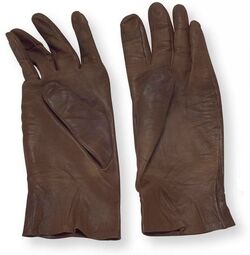 Gloves were articles of clothing worn over the hands. They were often used as protection, especially against weather, or to conceal fingerprints.[1] Specialized types of gloves existed, such as magna-gloves, which could magnetically adhere to metals.[2]
Appearances
Edit
As gloves appear in almost every Star Wars work, this list only includes explicit mentions of gloves in text or dialogue.
Notes and references
Edit
Ad blocker interference detected!
Wikia is a free-to-use site that makes money from advertising. We have a modified experience for viewers using ad blockers

Wikia is not accessible if you've made further modifications. Remove the custom ad blocker rule(s) and the page will load as expected.