Graak
Talk

3
103,582pages on
this wiki
Graak
Biographical information
Homeworld
Physical description
Species
Gender
Hair color

Gray

Eye color

Blue

Chronological and political information
Era(s)
Affiliation
«Keep your peace-loving ways to yourself, Chirpa! I was born to conquer!»
―Graak
Graak was a militaristic and aggressive Ewok from Bright Tree Village, whose ways brought him in opposition with the other Ewoks of his village.
Biography
Edit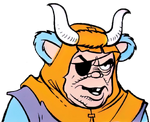 Graak's continual disregard of Ewok law led to Chief Chirpa and the Council of Elders banishing him to the Valley of the Lizard Warriors. There, Graak met Joddar and the Lizard Warriors. He taught them how to fight, and in return they asked Graak to lead them.
Years later, Graak encountered Wicket W. Warrick and Teebo.
Graak later fought AT-STs in the Battle of Endor in defense of the village that had ostracized him.
Behind the scenes
Edit
In Valley of Evil, Graak's face appears to be completely clean shaven. Also, in the story, he has an eyepatch which he apparently doesn't wear later on.
An action figure based on Graak was released in 2007. However, the coloring more closely resembles Lumat.
In the film Star Wars Episode VI: Return of the Jedi, Graak was portrayed by actor Daniel Rodgers.
Appearances
Edit