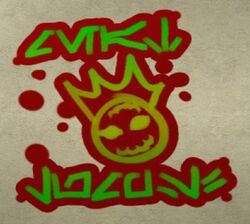 Graffiti was a type of vandalism, in which a being etched messages on public property. In 5 ABY, Zorba Desilijic Tiure led a group of bounty hunters to terrorize visitors to Hologram Fun World; one of their means of driving away the tourists was to etch graffiti on the Hologram Fun World Administration Building with their blasters.
The Meatlump Gang also used graffiti to mark their territory.
Appearances
Edit
Ad blocker interference detected!
Wikia is a free-to-use site that makes money from advertising. We have a modified experience for viewers using ad blockers

Wikia is not accessible if you've made further modifications. Remove the custom ad blocker rule(s) and the page will load as expected.