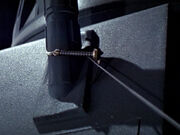 A grappling hook was a device used by individuals in order to mount large objects, swing across chasms, or ensnare others.
The Jedi of the Galactic Republic were commonly equipped with grappling spike launchers during missions, which were developed by the quartermasters at the Jedi Temple on Coruscant. Simpler grappling hooks, called ascension cables, were used by the clone troopers during the Clone Wars,[1] with the scout troopers and stormtroopers of the Galactic Empire using a similar device. Luke Skywalker used a fibercord grappling hook found in his stolen stormtrooper armor to swing himself and Princess Leia Organa across a chasm on the first Death Star.[2]
Ewoks were known to use primitive grappling hooks as weapons and for navigating obstacles, as well as for more unusual uses such as retrieving objects. Princess Kneesaa a Jari Kintaka of Bright Tree Village was highly proficient with the grappling hook and used it as her primary weapon.[3]
The bounty hunter Boba Fett was known to equip his fibercord whip with a small grappling hook for use in capturing bounties.[4]
The Feeorin pirate Nym was also known to use a grappling hook.
Appearances
Edit
Non-canon appearances
Edit
Notes and references
Edit
Ad blocker interference detected!
Wikia is a free-to-use site that makes money from advertising. We have a modified experience for viewers using ad blockers

Wikia is not accessible if you've made further modifications. Remove the custom ad blocker rule(s) and the page will load as expected.