The Great Temple was a building on the planet Lorahns that was the center of the Ffib religion.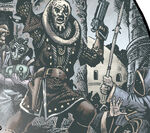 During the time of the Galactic Republic, the Jedi-turned-pirate, Reess Kairn, ransacked the Great Temple—destroying sacred texts, stealing priceless artifacts, and murdering four Ffib priests during his getaway. This was a major factor in contributing to the Ffib's hatred of the Jedi.
Appearances
Edit
Ad blocker interference detected!
Wikia is a free-to-use site that makes money from advertising. We have a modified experience for viewers using ad blockers

Wikia is not accessible if you've made further modifications. Remove the custom ad blocker rule(s) and the page will load as expected.