Greater Maldrood
Talk

0
103,572pages on
this wiki
Greater Maldrood
Political information
Type of government
Constitution
Head of State
Commander-in-chief
Societal information
Capital
Official language
Historical information
Formed from
Date of establishment
Date of fragmentation
Date of reorganization

12 ABY, as part of the United Warlord Fleets

Era(s)
The Greater Maldrood was a splinter faction of the Galactic Empire, that was established by Admiral Treuten Teradoc.
The Greater Maldrood was established in the Mid Rim by Admiral Teradoc after the Battle of Endor in 4 ABY. It became involved in a number of border skirmishes with a rival Imperial faction that was led by Warlord Zsinj and after Zsinj's death in 8 ABY, Teradoc—who styled himself "High Admiral of the Mid Rim"—attempted to expand the Greater Maldrood by seizing worlds in the Gordian Reach. However, this brought him into a three-way conflict with the Imperial Admiral Teren Rogriss and Admiral Gial Ackbar of the New Republic. Teradoc defeated Rogriss at Feriae Junction, causing a number of warships, that had previously served under Zsinj, to join the Greater Maldrood. However, following a number of defeats at the hands of the New Republic, Teradoc abandoned the Mid Rim and relocated to the Deep Core. There, he fought against Zero Command, an Imperial warlord state governed by Lord High Admiral Blitzer Harrsk. In 12 ABY, Teradoc was assassinated by Admiral Natasi Daala and his faction was later united with eleven other Warlord holdings to form the United Warlord Fleets.
Astrography
Edit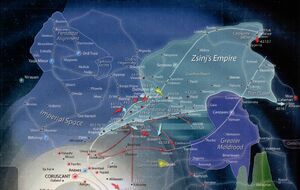 The Greater Maldrood encompassed Togoria, Gala; the shipyard worlds Roche, Abhean and Thanos; the industrial worlds Belderone, Charros and Metalorn; the trade centers Centares, Columex and Bimmisaari; and the agri-world Balamak. Centares served as its capital world.
Appearances
Edit